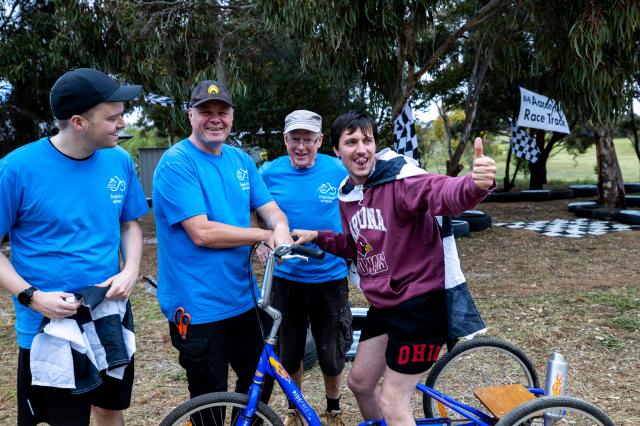 Ash Bolt
A Lara man living with disability has his own BMX track to enjoy thanks to the work of a bunch of dedicated volunteers.
Aaron lives in a group home in Lara, which now boasts a backyard BMX track created by volunteers from Solve Disability Solutions.
Solve Disability Solutions recreation development co-ordinator Tim Marchinton said Aaron had taken part in the organisation's Freedom Wheels clinics, which promoted bike riding and staying active, and they had noticed he enjoyed riding bikes.
"We've never done anything like this before but it came about because I could see Aaron liked riding his bike, [and] when we had him on a basketball court doing an assessment he was doing all these skids and having a lot of fun," he said.
"We found out he used to come out [to the backyard] and ride around when he was stressed, so he had worn a bit of a track there.
"There's no BMX track anywhere nearby, so we decided we would build him his very own BMX track right here."
Tim said local volunteer Laurie King had spent several months collecting 140 tyres to line the outside the track.
The volunteers then surprised Aaron recently by building the track, which included a slalom area and a pit lane.
"We're hoping this will be a place where he can come and find his happy place as he rides around the track," Tim said.
"We know that when you go and do exercise, it releases good endorphins that help make you feel better in terms of managing stress.
"We recommend that everybody gets out and be active regardless of whether you do or don't have a disability. And having a bit of just straight out old fashioned fun, you can't go wrong."
Tim said it was a special moment to see Aaron, who was non-verbal, get on the bike and enjoy the track.
"It was really special – it was great to see him get on the bike and having fun," he said.
The project was one of many Solve Disability Solutions volunteers have completed to help people living with a disability.
Laurie said there was a collection of volunteers across the Barwon region who enjoyed taking on projects to come up with innovative solutions to make life easier for others.