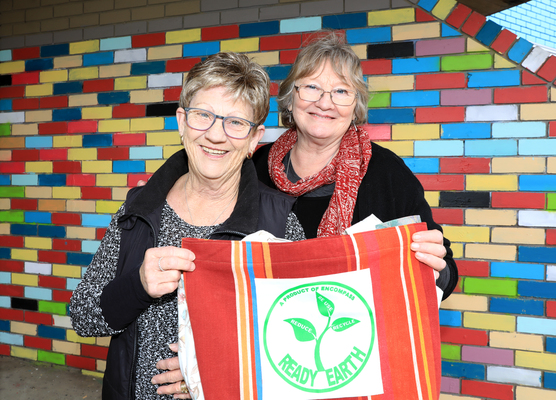 by Luke Voogt
All-abilities and "socially-isolated" crafters are using their hidden talents to save an estimated 671 tonnes of waste from landfill at a Whittington-based social enterprise.
Jan Daniels runs the group, which began making reusable bags from unwanted dresses, sheets and other fabric two years ago.
"We had a lot materials going to landfill," she said.
"Some of them were just beautiful and we thought, 'what can we do with them?'"
When the bags unexpectedly "became really popular", especially with recent bans on single-use bags, the group began selling them under the brand Readyearth, Jan explained.
But the bags were just a part of group's activities, which included an annual Refashion Parade and recycling about 450 tonnes of furniture a year, she said.
The group received 497 tonnes of furniture last year, and recycled, reused and "upcycled" about 90 per cent, Jan said.
"We mix it all up and find a way to bring it back to life. Some of (our members) put their own quirks on it – they can be quite funky and different, and people like that."
Clifton Springs' Fran Taverna is one of dozens of group members, mostly from Whittington, who love giving furniture and other odds and ends a new life.
"I make a lot of wind chimes with old spoons, forks, knives and CDs," she said,
"Probably my favourite piece (a friend) and I put together was a Chinese cabinet that was looking real miserable when it came in. By the time it was finished it was so good our boss wanted to buy it."