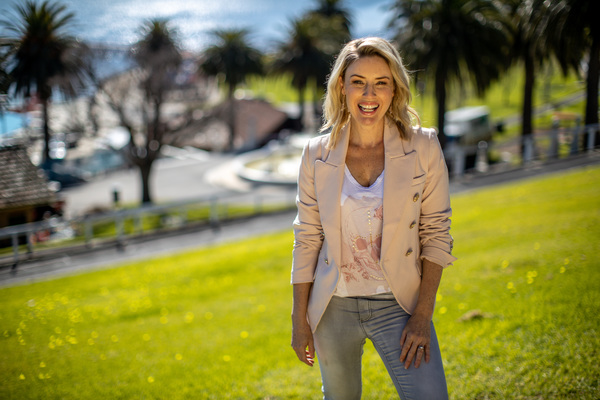 By Natalee Kerr
Entertainer Angie Hilton loves showing Geelong off. The TV presenter spoke with Natalee Kerr about growing up in the region, her favourite pastimes and how things have changed.
What is your connection to Geelong?
I've lived in Geelong for most of my life. I grew up in Highton and went to Bellaire Primary School and then Belmont High. I loved being part of the GSODA junior players and also loved playing basketball for YMCA and Geelong.
What are your fondest memories of Geelong growing up?
My favourite memories of Geelong as a child was going to a place called Charlie Chaplain's in town – by memory the staff were in dress up and they made the best ice cream sundaes. I also loved roller-skating at Rollerway and horse riding at Finnigan's Trail Rides.
What is the biggest change you've seen in Geelong over the years?
I still remember the days before Westfield in Geelong existed – Market Square was it for fashion. I love that the look of the city is really starting to change with all the great new buildings and the beautiful waterfront.
What is your favourite local spot?
My favourite coffee is Newtown Provedore, but I love visiting Skinny Dippers cafe for the delicious healthy options and Boom Gallery for the great atmosphere. If we get a child-free night, my husband Braith and I often escape to Geelong Cellar Door for a yummy cheese platter and beautiful local wines. I also love that we have that beautiful river to walk around, I try to get down there a few times a week to clear the mind.
Tell me about your lifestyle show Destination Happiness and how it all started?
I started Destination Happiness for a few reasons – one was my passion to help prevent people falling into the depths of depression, as I did from not seeking help early enough. I wanted myself and others to talk about mental health issues as easily as they do about having a cold or a sprained ankle.
When it came to producing a show I must admit, I really didn't know how. I just took one step at a time and improvised my way through. It's a big team effort though, if it wasn't for my husband securing the funds for each season we would have never had a chance to get it to air.
After three series we now have many lovely loyal followers and get lots of emails saying how the show has helped people. This makes all the hard work worthwhile.
What is something people might not know about you?
I don't drive over the Westgate Bridge … long story!