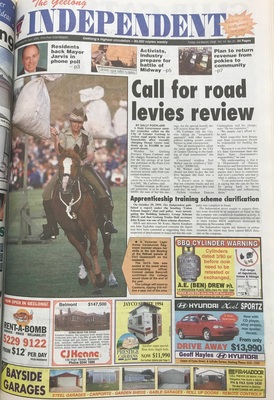 20 years ago
March 3, 2000
A State Government member yesterday called on the City of Greater Geelong to review road works levies on households after recently charging Ocean Grove residents up to $14,000 to seal gravel streets.
Member for Geelong Province Elaine Carbines said the charges threatened to swallow the life savings of at least one pensioner in the Peers Cres group of streets.
15 years ago
March 4, 2005
Vicroads is set to replace Barwon Heads Bridge as maintenance costs spiral out of control and the historic structure continues to decay.
The bridge, built in the 1920s and still one of Victoria's longest timber bridges, had deteriorated in recent years, particularly during a 1995 flood.
10 years ago
March 5, 2010
Plans for bus shelters on Geelong's Moorabool Street have confused traders.
Deane Etheredge, who owns Banjo's Bakehouse on the corner of Moorabool and Little Malop streets, said the proposed shelter locations outside his business would wipe out his outdoor dining.
5 years ago
March 6, 2015
A Geelong woman claims she was unfairly dismissed after raising concerns about asbestos removal and contamination at a housing development site in Fyansford.
Rodica Posogeanu has complained to the Fair Work Commission that South Geelong's St Quentin Consulting employed her as an on-site superintendent at Gen Fyansford in November before sacking her in January.