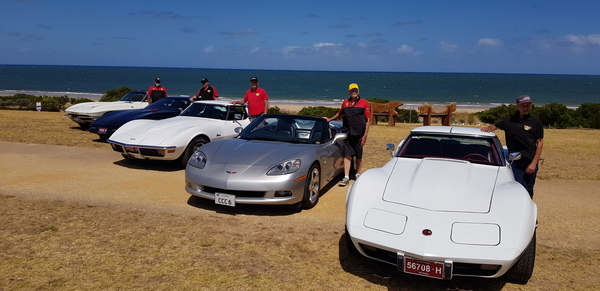 By Gill Cooper
Corvette enthusiasts are joining forces with Torquay Rotary Motor Show organisers to showcase more than 400 vehicles on the foreshore this Sunday.
Committee member Greg Plumridge said active support from the Surfcoast Corvettes club members and a new feature class for Best Corvette was attracting a strong contingent of the classic American muscle car.
Other highlights would be extra classes for unrestored cars and the "sheer diversity" of vehicles including motorcycles of all ages on display, he said.
"People are invited to come and get close and personal with these stunning vehicles.
"They'll be in awe of the craftsmanship in their original design and the restoration skills of the passionate owners who have lovingly cared for them."
Mr Plumridge said Sunday's event, from 10am to 2pm, was a fundraiser for the club, with proceeds going to local, national and international Rotary health projects.
The projects included provision of clean water in developing nations and prosthetic limbs for people on Pacific Islands such as Fiji, he said.
Torquay Rotary Club also contributed to Barwon Health's patient transport service, Headspace, Endpolio, and Surf Coast Secondary College's students walking the Kokoda Track.
"Last year's show broke all records and raised $20,000 for Torquay Rotary Club and we are hoping to top 450 entries this year," Mr Plumridge said.
"This is the first time we've introduced prepaid entry ticketing to help speed up processing of vehicles in the show as they arrive. Around 50 volunteers including Rotary volunteers and friends will help ensure everything runs smoothly and food and drinks will be available," he said.
"Mild weather is expected – cloudy and 22 degrees is forecast – which is perfect for this kind of event, so we hope to see plenty of people bring their families along to the show. Entry is $5 for adults and kids are free."
Surfcoast Corvettes club member Betty Andre said about 60 "Vetters" were coming to the show mainly from Melbourne, Shepparton, Ballarat, Bacchus March and Mt Gambier – with two entries from the Northern Territory.
Mrs Andre said her group had a full weekend's activities planned while visiting Geelong – meeting at Elephant Walk on Torquay Foreshore at 10am Saturday for a cruise along the Surf Coast including Bells Beach, Anglesea and Lorne.
"We'll be back in Geelong around 3pm then have our charity auction at the Corvette Dinner with proceeds going to the Torquay Rotary Club. Then members will be turning out their Corvettes for Sunday's show."