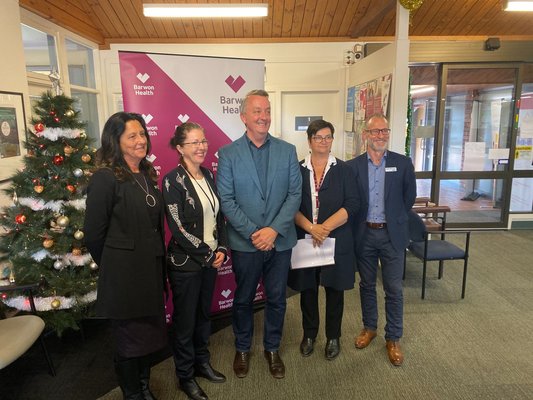 By Natalee Kerr
A Geelong program supporting suicide survivors will receive ongoing funding in a bid to save more lives, State Government has announced.
The extension of the Hospital Outreach Post-suicidal Engagement (HOPE) program came after a recommendation by the Royal Commission into Victoria's mental health system.
Mental health minister Martin Foley visited Corio Community Health Centre on Wednesday to announce the ongoing funding, which he said woiuld secure the program in Geelong beyond mid-next year.
The Barwon Health initiative, rolled out in December 2017, has helped 317 people in its first two years.
The program supports suicide survivors for three months following their discharge from hospital, with outreach workers collaborating with families, friends and carers to help patients.
Mr Foley said poor mental health costs the state $14.2 billion annually, with the annual suicide rate 40 per cent higher in rural and regional areas than in Melbourne.
"Whether we've experienced it ourselves or watched a loved one suffer – every Victorian has felt the impacts of mental health," he said.
The commissions recent interim report also found that Barwon Health needed more acute beds.
Geelong has the lowest number of mental health beds available in the state, the report revealed.
Barwon Health has 14.2 public mental health beds per 100,000 residents but is set to have 11.7 by 2032, according to the data.
The health provider revealed that mental health issues at University Hospital Geelong's emergency department had risen by 42 per cent over the last three years in a submission to the commission earlier this year.
Mental health workers at the hospital have been exposed to "significant levels of agitation, distress and violence" with assaults occurring on a "regular basis", according to Barwon Health.
The Geelong hospital is now categorised as a "high-risk public zone" by Victoria Police, the submission noted.