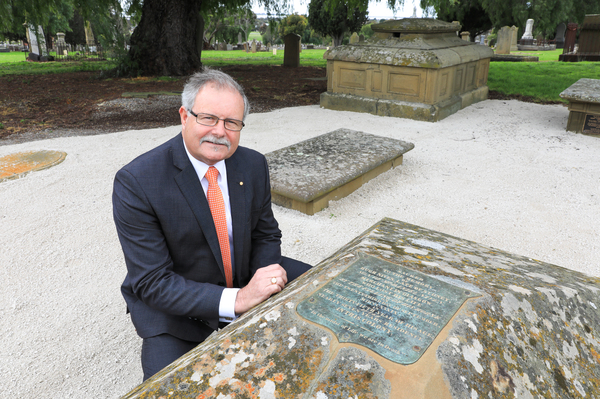 by Luke Voogt
Geelong Eastern Cemetery, the oldest still operating in Victoria, celebrated its 180th anniversary by opening a new mausoleum on Thursday.
"It's served Geelong well for 180 years and will be operating well into the future," said Darryl Thomas, Geelong Cemeteries Trust chief executive officer (CEO).
For 35 years Darryl has worked at the cemetery, the final resting place of Geelong historic figures like football legend Charles Brownlow and philanthropist Howard Hitchcock.
"(Hitchcock) paid most of the wages for the people that (built) the Great Ocean Road," Darryl explained.
"The history behind those names is just amazing and that's what cemeteries are all about. They're very large open-air museums.
"But there's not one person buried that doesn't have a special significance to somebody."
This month the cemetery celebrates its oldest grave, a Barrabool Hills sandstone monument to Glasgow-born pioneer Hugh Niven, who died on 23 September, 1839.
"It was said the entire European population of Geelong, which was about 200 people, turned out to pay their respects to him," Darryl said.
"The stonemasons from days gone by were certainly brilliant tradespeople and their monuments have stood the test of time."
Born in 1804, Niven migrated to Sydney in 1932 before leasing 9300 hectares of land near Ballarat in 1939 for 100 cattle and 8000 sheep, Darryl said.
"That same year he fell from his horse and died in Geelong two days later."
Darryl started as groundskeeper at the cemetery, working his way up to CEO 15 years ago.
On Thursday he officially opened the last unused area of the cemetery and a new mausoleum, which he said would ensure it surpassed the 200-year milestone.