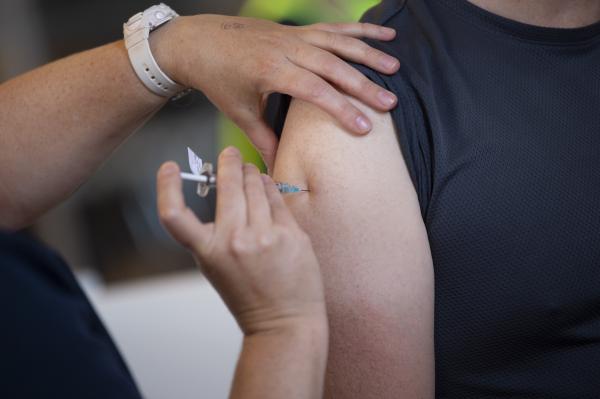 By Luke Voogt
About 1750 people in Geelong have received Pfizer's COVID-19 vaccine, with local health authorities expecting to receive 5000 doses of the AstraZeneca vaccine in coming weeks.
The COVID-19 immunisation program was ahead of schedule in the region during its first fortnight, according to Barwon South West Public Health Unit director Eugene Athan.
"This immunisation program is a monumental logistic exercise that is unprecedented in Geelong's history," Professor Athan said yesterday.
"In the first week of our COVID-19 vaccination rollout, we immunised more than 950 people and that figure has now reached 1750.
"This is ahead of schedule for the Barwon South West region. Very few eligible people have opted out of receiving the vaccine so far."
The rollout in the region bucks the trend across Australia, with Federal Health Minister Greg Hunt this week revealing the program is behind schedule in the nation's aged care sector.
Barwon South West Health Unit is currently extending phase 1A of the rollout beyond Geelong.
"Our public health unit is working in Portland and Colac this week, and will extend to Hamilton and Warrnambool next week," Professor Athan said.
He also revealed that the unit was expecting 5000 doses of the AstraZeneca vaccine in the coming weeks.
The unit plans to ramp up immunisation once the Oxford AstraZeneca vaccine becomes available.
The vaccine, which is less effective but easier to store than its Pfizer counterpart, will be administered in later phases of the national rollout.
In Britain the Pfizer and AstraZeneca vaccines have together reduced hospitalisation from COVID-19 by more than 80 per cent according to the country's latest public health data.
Clinical trials have shown the Pfizer vaccine to be about 95 per cent effective against COVID-19.
Recent studies found the AstraZeneca vaccine has a 74.6 per cent efficacy against the UK strain of the virus, compared to 84 per cent against the original variant.
But a multi-centre clinical trial in South Africa concluded that the AstraZeneca vaccine had minimal efficacy in mild to moderate COVID-19 cases from that country's mutation of the virus.
"Compared to the Pfizer vaccine, AstraZeneca will be easier to store and distribute across the Barwon South West region, which makes it logistically more straightforward," Professor Athan said.
"Its efficacy is proven to be effective to prevent the spread of COVID-19.
"Supply availability will be a significant factor in the rollout of vaccinations across our region, including when people receive the vaccine and which vaccine is used."