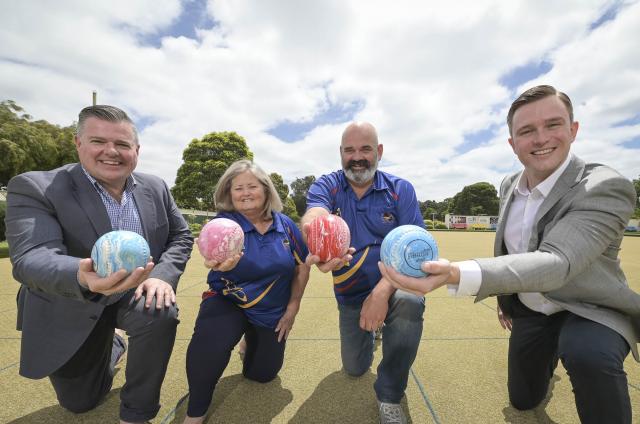 Ash Bolt
New baseball facilities at Wallington and a Geelong Eastern Park Bowls Club upgrade are among 40 projects to share in more than $3.1 million through the City of Greater Geelong's 2021-22 Community Grants programs.
Behind closed doors at its December meeting, the Greater Geelong council awarded 34 Community Infrastructure Grants, five Geelong Heritage Grants and one First Nations Cultural Heritage Grant totalling $3.13 million.
The Bellarine Bears Baseball Club will receive $350,000 through the Community Infrastructure Grants program for the development of fields, fencing, dugouts, a scorers' box, and lighting at Wallington Recreation Reserve.
Geelong Eastern Park Bowls Club, North Geelong Cricket Club, Newtown City Hockey Club and Manifold Heights Cricket Club will also receive Community Infrastructure grants of between $340,000 and $350,000 to deliver significant facility upgrades.
Geelong's Lazarus Community Centre, which has supported about 400 people experiencing homelessness and disadvantage over the past 12 months, is also a recipient of a $350,000 Community Infrastructure Grant to enable the upgrade of its kitchen, bathroom and dining facilities.
Five restoration projects across Geelong, Fyansford, Portarlington and Lara will share in almost $100,000 under the Geelong Heritage Grants program, which replaces the former Central Geelong Heritage Grants this year to open the funding stream to applications across the municipality.
The Geelong Gaol Museum received the lone First Nations Cultural Heritage Grant of $60,000 for Aboriginal artwork at the Old Geelong Gaol.
Mayor Stephanie Asher said it was pleasing to support a wide range of exciting projects for the region.
"The Greater Geelong community will benefit greatly from these diverse, inclusive projects initiated by a broad range of clubs and organisations and supported by the City through the three funding streams," she said.
"We recognise how important it is for our community to reconnect and re-energise after the challenges of the past two years; these projects can bring clubs and facilities back to life and inspire people to get involved.
"Cricket nets and bowling greens at Lara, new fencing for the Grovedale Community Garden, a workshop extension for the Bellarine Woodworkers, a master plan to upgrade Geelong's ballroom dance facilities and a refurbishment of the Hellenic Orthodox community hall are just some of the fantastic projects the Community Infrastructure Grants will support."
Council finance portfolio chairman Anthony Aitken said changes to the grant criteria meant there were greater funding opportunities this year and the council was delighted to be able to endorse grants for projects from Lara to Portarlington.
"These grants are fantastic recognition for the hard-working volunteers who keep our community sporting clubs running," Cr Aitken said.
"This crucial assistance will help our community sporting clubs to provide the modern facilities they need to keep attracting and retaining members.
"The reaction of members at Eastern Park Bowls Club when we visited to celebrate the news showed just how much this kind of funding means to clubs such as theirs."
The Ccty had $3 million available under the Community Infrastructure Grants program, with grants of up to $350,000 available to ready-to-go infrastructure or $50,000 for planning of future projects.
A further $100,000 was available under the Geelong Heritage Grants program, which provides financial to support for owners to conserve heritage buildings within the Greater Geelong region.