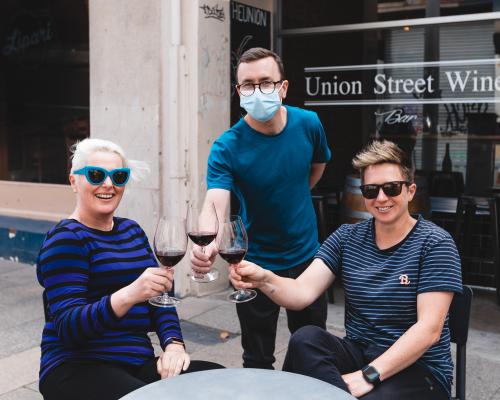 By Luke Voogt
Thirty-eight temporary outdoor dining permits equating to more than 530 seats have provided a boost for Geelong hospitality businesses recovering from COVID-19.
Parking spaces converted into al fresco drinking and dining spaces allowed Union Street Wine Bar to host up to twice as many customers during the first weeks of reopening.
"At the stage that it was put in we could only have eight people in the bar, so the extra seats were pretty significant," co-owner Andy Leigh said.
Council also provided removable white picket fencing to create a barrier between the outdoor dining spaces and the road.
Following a further easing of restrictions, the bar can now accommodate 16 patrons indoors but the extra eight seats on two separate tables remained "very beneficial", Mr Leigh said.
Neighbouring brewery Valhalla Taproom also benefited from the set-up, which allowed the venue to have 10 more outdoor guests across three tables.
The Beach House at Eastern Beach is taking advantage of a permit for 20 seats, 10 tables and eight umbrellas extending past its existing al fresco area.
Fisherman's Pier and Sole Waterfront Café are using the timber decking and paved areas near the corner of Yarra Street and Eastern Beach Road for 50 outdoor sears.
Over in East Geelong, restaurant Lucy Lockets is making use of a permit for 16 seats with umbrellas and temporary barriers outside.
Council has waived all outdoor dining fees for 2021 and refunded 2020 fees to help hospitality businesses recover from the impacts of the pandemic.
Additionally City Hall also waived A-frame permits and food premises registrations.