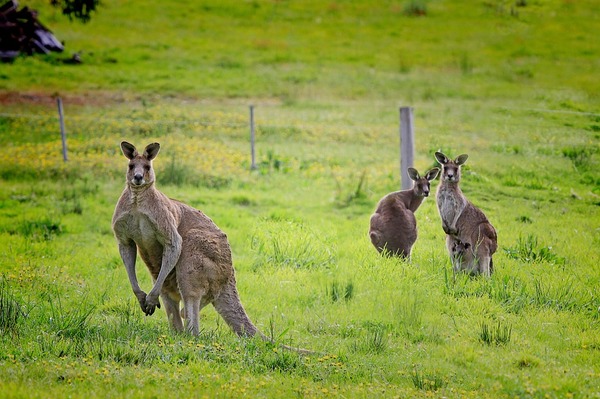 By Natalee Kerr
More than 1800 kangaroos across the Otways are set to be shot for pet food in a "permanent" state-wide kangaroo harvesting program.
State Government launched the program on Tuesday in a bid to "better manage" Victoria's kangaroo population and "support" the pet food industry.
Greater Geelong, Surf Coast and Golden Plains municipalities are included in the seven "harvest zones" identified by the government as areas with "significant" kangaroo numbers.
An initial 1865 kangaroos have been allocated to be killed and processed by accredited hunters within the Otway region using a monitored tag system.
Agriculture Minister Jaclyn Symes said allowing accredited shooters to harvest kangaroos will make life easier for farmers.
"The program balances the need to keep kangaroo populations at healthy levels and ensure farmers aren't being overrun by roos who can eat crops, damage property and compete with stock for feed and water," she said.
The new program replaces the Kangaroo Pet Food Trial that ran for the past five years and includes "strict safe-guards" to ensure sustainable harvesting, according to government.
Since the trial started in 2014, there had been a 250 per cent increase in the number of kangaroos killed in Victoria, according to a Department of Environment, Land, Water and Planning report.
The report, which Australian Society for Kangaroos unearthed under Freedom of Information, stated one million roos died under the program.
The trial aimed to reduce the waste of kangaroo carcasses controlled under Authority to Control Wildlife permits that allowed culling of kangaroos on private land for commercial processing.
Landowners can still apply for an Authority to Control Wildlife (ATCW) permit to manage kangaroos on their properties, but these carcasses cannot be processed under the new system, the government said.
Agriculture Shadow Minister Peter Walsh said the changes expose farmers, shooters and pet food processors to "more red tape".
"It's absurd that kangaroos controlled under an Authority to Control Wildlife permit will now be left in the paddock to rot, feeding up wild dogs and foxes," he said.