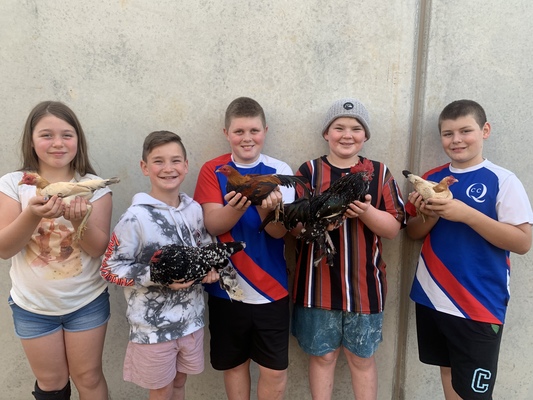 by Luke Voogt
Scott Kiddle is feeling plucky about his family's chances at the Royal Geelong Show with his children and stepchildren entering a chook each.
The show is a family affair for the Ocean Grove local who has entered for 30 years after growing up on a farm.
"I've entered 10 birds this year – that's pretty small for me," he said.
"For my kids I enter one chook each because it's fair. They've entered the last three years."
Scott owns about 70 chickens scattered over various properties and is busily preparing for yet another clutch of hatchlings.
"I've just hit breeding season so I'm preparing to hatch chicks left, right and centre," he said.
"I'm closer to my chooks than I would be to a dog. They're so peaceful – if you're having a bad day you can just go out into the yard and spend time with the chooks.
"And it's good to see if you can try to breed a better one each year. I guess that's the challenge – trying to breed the perfect chicken."
His children had won a champion junior exhibit since they began entering three years ago, he said.
This year three of his four children and both stepchildren are entering chickens.
"Three of them think it's Christmas because they might win ribbons," he said.
"The other two just think it's cool because they get into show for free after entering. If people were smart they'd enter a chook."
As a long-time member of Geelong Poultry Club, which meets the first Monday of every month, Scott looks forward to the show.
"I like that Geelong Show is still very agricultural and it's good for people to see all the different breeds and varieties," he said.
WIN SHOW TICKETS: The Indy's Facebook page is giving away 30 family passes to the 2017 Royal Geelong Show.
Visit the page at facebook.com/GeelongIndy and follow the simple instructions to go in the draw.
Entries close 13 October.