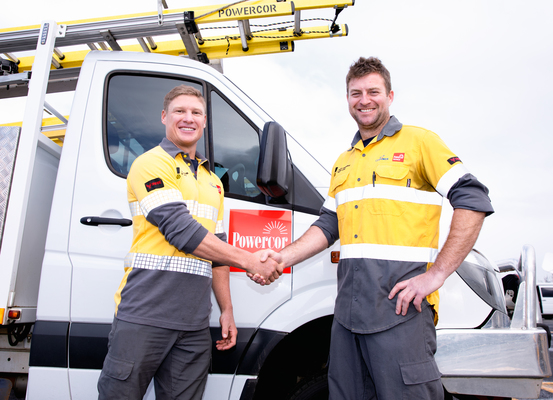 By Natalee Kerr
Two Geelong tradies have saved the life of a 98-year-old man after spotting flames coming from his burning house.
Powercor workers Ben Neville, 35, and Mitch Cuthill, 32, were out on a typical job on Tuesday night when they noticed flames at a nearby Hamlyn Heights home.
"I was working at the top of a power pole about 200 meters away and could see a fire," Ben said.
Ben first thought it was "just a backyard fire" but the pair decided to check it out after sensing something was wrong.
"The fire had died down but there was smoke coming out of the roof," he said.
"We thought no one was home, it looked like the place was getting renovated."
After calling the fire brigade, neighbours alerted the tradesman that an elderly man could be inside.
"That's when we thought 'oh crap'," Ben said.
Braving the smoke, the duo smashed the front window to try to reach the sleeping elderly man in his burning house.
"I think that's what woke him up," he said.
The pair heard the resident shouting as he got to the door but the elderly man was struggling to turn the "burning hot handle".
"We eventually got the door open but he collapsed… I had to open the door with him against it," Ben said.
Ben and Mitch then carried the "very disorientated" man to safety.
"He didn't know what was going on, he was just worried about his house," Ben said.
Firefighters rushed to the blaze at Robb Ave about 10pm and brought it under control by 10.15pm, according to a CFA spokesperson.
Paramedics treated the man for minor burns, before taking him to University Hospital Geelong in a stable condition, a Barwon Health spokesperson said.
Despite being at Powercor for more than a decade, Ben said the experience was unlike anything he had faced before.
"We get called to a lot of property fires, but we get there after it's all said and done," he said.
"The ironic thing is we called the fire brigade, then they called Powercor and sent the job to us."
Mitch added they had no concerns about risking their own lives during the ordeal.
"As soon as we knew someone was in there, it sort of took over and we thought we better get him out," he said.