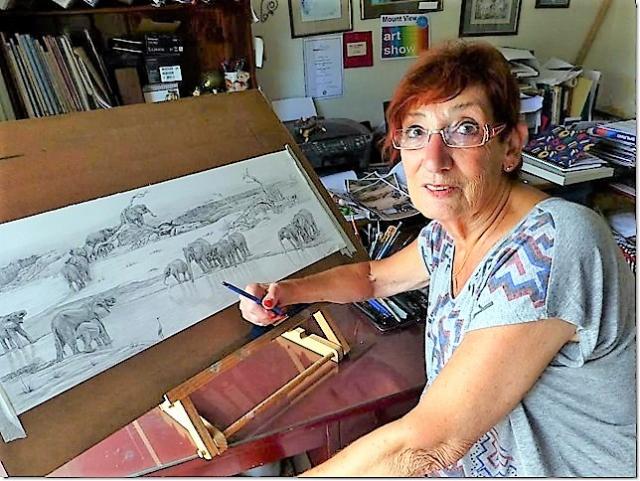 Geelong artist Barbara Gleeson has a strong passion for animals and art and has been creating different styles of art all of her life. She talks to Justin Flynn about what it means to live here.
What's your connection to the region?
I have been in Geelong since I was two. I did all of my schooling here – Tate Street Primary School and Geelong High. I completed Year 11.
My husband and I had three hairdressing salons – Styleway and after a number of years we both became TAFE teachers and I taught for 18 years at the Gordon Hairdressing Department.
What do you like about where you live?
I love to be on the coast, love the sea breezes, and it's a great place for schooling our three children.
What, if anything, would you change about where you live?
It makes me so sad to see our city as it is, empty shops everywhere. I can nearly shed tears over the state of my home town.
Where is your favourite local place to spend time?
When I was younger I would say our great beaches, now I like to find interesting and great places to go for lunch.
Some gems are Cucina 12, Sawyers Arms Tavern, The Dunes and Fork and Flower. I'm still looking for places, though.
Tell us something people would be surprised to know about you.
A lot of people still see me as a hairdresser, which I was, but I have been creating art since 2009. My husband Leo and I travelled a great deal and then we found Africa.
We just kept going back. We had four trips there before my husband died of cancer in 2018. I was supposed to go again to Africa, taking my daughter with me, in 2020, but then the pandemic hit.
To me it is wonderful to see the magnificent animals there, in their natural habitat, where I could photograph nature at its best.
What project are you working on now?
I find even now that I must be creative and therefore I am still spending days and weeks creating wildlife art.
Something deep inside me says I must use this natural wish to create. I have always loved a challenge. It is a big part of my nature, and I have always loved animals.