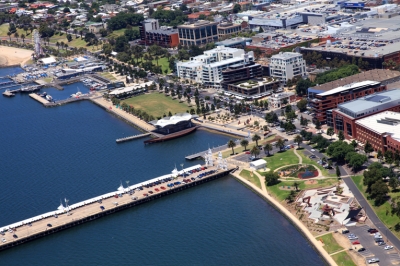 By Luke Voogt
Central Geelong traders face yet another roadblock in their COVID-19 recovery after state government delayed its return to work plans following a new positive case on Wednesday.
Private and government workplaces were scheduled to return to 75 per cent capacity next Monday.
But state government postponed the plans after a 26-year-old man working in hotel quarantine tested positive.
Geelong Chamber of Commerce president Ben Flynn described the delay as disappointing for small traders relying on large organisations for business.
"It's heartbreaking for those businesses in the firing line of restrictions," he said.
"It's another dent in their optimism and it creates a lack of certainty moving forward.
"I know traders who were really looking forward to having those organisations return to 75 per cent.
"It's so, so important for those large employers to be tenants in the city."
But Mr Flynn said some traders were "optimistic" following recent return of private businesses and public organisations to 50 and 25 per cent office capacity respectively.
"There are a lot of people around town but it's not at the level that we would like to see."
Mr Flynn described Wednesday's positive case and the subsequent return-to-work postponement as "unfortunate timing".
"Regional areas are disadvantaged when the cases are in the city," he said.
But he said he supported state government decisions made with the "best possible health advice".
"I think we've enjoyed some great freedoms recently as a result of that."
Premier Daniel Andrews on Wednesday night confirmed the positive case, the first locally-acquired Victorian case in almost a month.
Mr Andrews announced the limit on home visitors would revert from 30 back to 15 and that masks would become mandatory again for all public indoor spaces.
He warned the Australian Open hotel quarantine worker could have infected many others, but in a press conference this morning said an initial round of tests on potential contacts had come back negative.
The Department of Health and Human Services listed 14 potential exposure sites across Melbourne.
Kebab Kingz in West Melbourne from 11:24pm — 00:15am on January 29
Lululemon, DFO in Moorabbin from 5:00pm — 5:45pm on January 29
Woolworths in Springvale from 6.30pm — 7.30pm on January 29
Club Noble in Noble Park from 2:36pm — 3:30pm on January 30
Aces Sporting Club (Driving Range) in Keysborough from 10:00pm — 11:15pm on January 30
North Point Café in Brighton from 8:10am — 9:30am on January 31
Kmart in Keysborough from 4:00pm — 5:00pm on January 31
Kmart in Brandon Park from 4:35pm — 5:10pm on January 31
Coles in Springvale from 5:00pm — 6:00pm on January 31
Bunnings in Springvale from 11:30am — 12:15pm on February 1
Nakama Workshop in Clayton South from 11:15am — 12:00pm on February 1
Golf Academy in Heatherton from 5:19pm — 6:35pm on February 1
Sharetea in Springvale from 6:45pm — 7:30pm on February 1
Exford Hotel in Melbourne from 11:00pm — 11:35pm on February 1
Details: www.dhhs.vic.gov.au