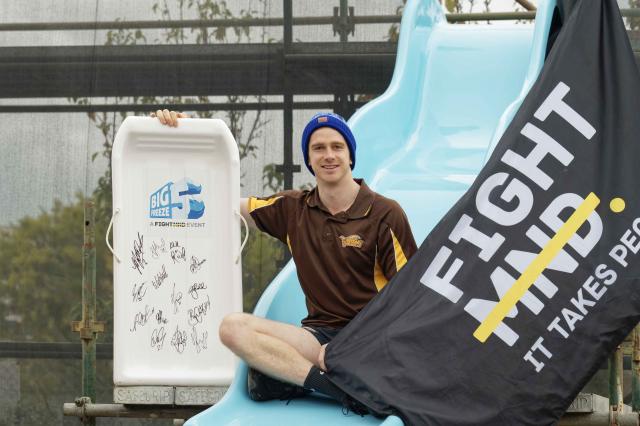 By Justin Flynn
Local celebrities will brave the ice slide tomorrow for Geelong's very own Big Freeze.
Similar to the Big Freeze before the Melbourne and Collingwood game at the MCG every Queen's Birthday, Drysdale will be the epicentre for the fight against MND.
Celebs will dress up in full costume and take the plunge into the icy depths at 1.30pm just before Drysdale's clash against rivals Portarlington.
Drysdale player James Breust is Neale Daniher's nephew. Neale has been the driving force behind the Big Freeze and has inspired so many people.
"My mum is one of the eleven Daniher siblings, including uncle Neale and so MND is very close to our family," James said.
"Since Neale's diagnosis over nine years ago, the FightMND army has grown into the incredible support base we have today.
"I am extremely honoured to represent the inaugural Geelong Big Freeze this year. The support for the event has already been amazing.
"I'm so excited to witness a sea of blue beanies at the Hawks' nest and I'm confident this great event will become a yearly tradition."
Due to his playing commitments in the main game, James won't be sliding this year, but said the volunteer sliders, which include Taxiride's Jason Singh and North Melbourne AFLW player and local Drysdale product Tess Craven, have been wonderful.
"I'm so proud of each of the sliders this year and can't wait to see what costumes they come up with," he said.
"My advice would be to hold on tight and make sure you go all the way under the ice for maximum refreshment."
Drysdale's Big Freeze is at Mortimer Oval, Drysdale on Saturday June 4 at 1.30pm.
At the time of writing, the event had already raised more than $27,000.
Go to hub.fightmnd.org.au/diy-big-freeze-8/big-freeze-geelong to contribute.