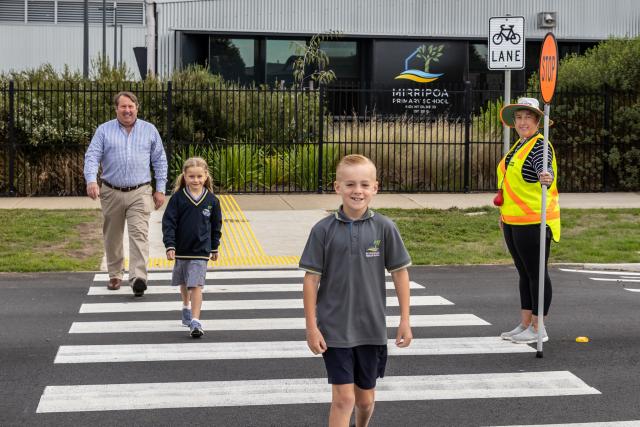 Ash Bolt
New road treatments and a school crossing supervisor are helping students to safely travel to a growing primary school in Mount Duneed.
The jointly funded City of Greater Geelong and TAC project included upgrades to street lighting, improved line marking and the installation of a raised pedestrian crossing outside Mirripoa Primary School.
The City has also relocated the school crossing supervisor from the traffic signals to the new crossing on Unity Drive, to help children cross the road during peak periods.
Deputy mayor Trent Sullivan said the crossing would encourage more people to walk or ride their bikes in the area, while linking into existing services such as Club Armstrong and the playground.
"Enrolments at Mirripoa have grown quickly, with more than 300 students attending the school this year," he said.
"The introduction of the new raised 'wombat' crossing and an attending supervisor has made the area safer for all road users."
Cr Sullivan said the school crossing was the latest in a series of infrastructure and facilities projects in the Armstrong Creek and Mount Duneed region.
Construction has started on a community hub and kindergarten in Mt Duneed, with the $13 million development expected to open early 2023.
He said the design of the $18.4 million Armstrong Creek Town Centre Library and Learning Hub had been completed and construction was due to begin mid-year.
A $650,000 community shed in Mount Duneed is nearing completion, with the new space to soon accommodate Grovedale Men's Shed Inc and other community programs.
Kardinia Ward councillor Ron Nelson said the council-led initiatives would support residents and attract other people to settle in the area.
"It is an exciting year in Armstrong Creek and Mount Duneed, and I'm looking forward to seeing the area continue to go from strength to strength," he said.