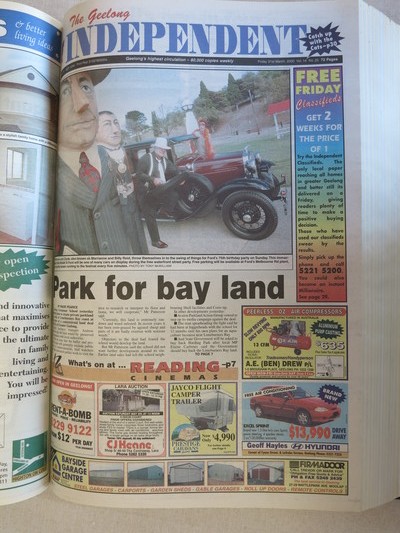 20 years ago
March 31, 2000
Geelong Grammar School yesterday unveiled plans to create private parkland at a strip of Limeburners Bay coast at the centre of a controversial land deal with the City of Greater Geelong.
School business manager Andrew Patterson said the land would be reserved in co-operation with local authorities.
15 years ago
April 1, 2005
Geelong's $380 million bypass was in limbo yesterday after failing to meet is first major milestone due to political wrangling.
VicRoads had planned to call tenders for stage one work but put the project on hold amid a funding deadlock between state and federal governments.
10 years ago
April 2, 2010
Prime Minister Kevin Rudd has vowed to slash Geelong Hospital's waiting list with "long-term" funding to improve primary care around the region.
Mr Rudd announced his plans to tackle the shortfalls in Geelong's public health system during an inspection of the Federal Government's new GP Superclinic at Belmont's Barwon Health facility.
5 years ago
April 3, 2015
Ambulance officers went into biohazard emergency mode when they transported a suspected Ebola sufferer to Geelong hospital last month.
The man displayed flu-like symptoms after recently returning from a cruise-ship tour that included Africa, a health care professional told the Independent.