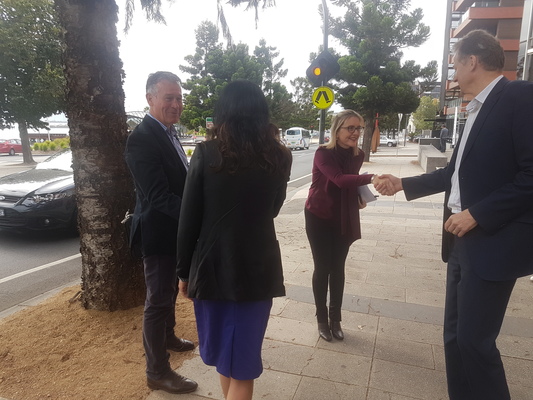 By Luke Voogt
Geelong fast trains will require several times as much funding as a $2 billion Federal Government pledge, according to Mayor Bruce Harwood.
With a national election looming Prime Minister Scott Morrison last month promised $2 billion for Geelong fast rail.
But if State Government matched the amount, the combined $4 billion would fall well short, Cr Harwood said.
"The whole project, no, we're looking at 19 to 20 billion," he told a media conference on Monday.
"We're not saying no to any cash coming down here, it's about making sure the project's done in a timely manner (and) budgeted correctly."
Geelong's council allocated $100,000 over two years to develop a fast rail strategy.
According to council research Geelong and Ballarat fast rail would cost from $19 billion to $20 billion, Cr Harwood explained on Tuesday.
He was unable to supply costings for Geelong alone as council's research focussed on a "regional" project, he said.
State Government last week estimated Geelong fast rail would cost between $10 billion and $15 billion.
But Cr Harwood said examining Geelong in isolation made little "economic sense".
The research indicated 32-minute trains to Southern Cross Station were possible, he said.
But Transport Infrastructure Minister Jacinta Allan refused to confirm this as she announced a new Geelong fast rail reference group, saying government wanted the "fastest travel time possible"
"What I won't do, which is what other political parties (tend) to do, is deceive the Geelong community about what can actually be achieved."
Ms Allan welcomed the Commonwealth pledge but noted it came "on the eve an election".
State Labor pledged $150 million to plan regional fast rail last year, including $100 million in last November's election campaign.
"We've already started a lot of that detailed, technical planning work," Ms Allan said.
"Unlike some who are prepared to put lines on a map and some magical numbers next to them and claim that that's a project for Geelong."
Both Corangamite MP Sarah Henderson and her Labor challenger Libby Coker recently committed $700 million to duplicating rail from Geelong to Waurn Ponds.
The duplication would fix bottlenecks at South Geelong and Geelong stations, which was essential for fast rail, Ms Allan said.
She accused Federal Government of being "dragged kicking and screaming" to support the duplication.
The Indy phoned and emailed Ms Henderson's office for comment but received no response.