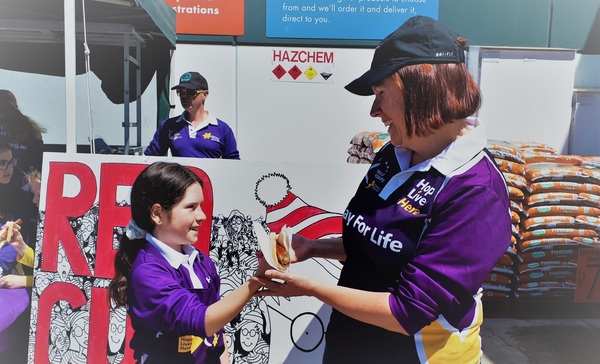 by Luke Voogt
A Surf Coast Relay for Life team has thrown down the gauntlet to its competitors to raise more money for cancer research and support.
Red Cup Events team captain Heather Evans issued the challenge as her team sold sausages on Saturday to raise funds.
"We challenge any other team, including those formed over the next month or so, to beat us in any of the team challenges," she said.
"We will also give them a good run in raising the most funds for Cancer Council, with more fundraising events planned."
The team has planned music and trivia nights, sausage sizzles, tin-rattling and other activities in its quest to be the top fundraising group.
Heather was confident her team could also win the most prizes at the overnight event next March at Polwarth Oval.
"We have been part of the local Relay for Life activities for the past five years," she said.
She encouraged local teams to sign up and said Cancer Council would be the true winner, whether her team won the day or not.
"The more teams we have to compete against, the more funds are raised to fight cancer."
The overnight event features live entertainment, music, activities and a candle-lighting ceremony for those lost to cancer.
During the ceremony the Californian expat will remember her own relatives who died from the disease.
"I think this day and age everyone has lost someone to cancer," Heather said.
"Even some the members of our team have been through it."