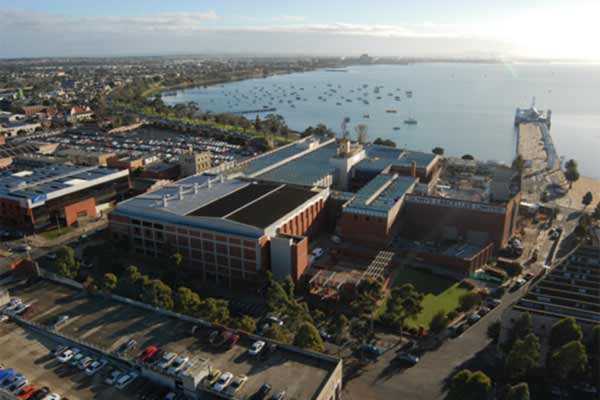 By Luke Voogt
Deakin University could cut up to 220 jobs in a proposal slammed by the National Tertiary Education Union (NTEU).
In an online meeting on Tuesday, Deakin University vice-chancellor Iain Martin told staff a significant organisational restructure could result in the loss of 180 to 220 jobs.
NTEU Deakin University branch president Piper Rodd described the announcement at the end of the one-hour meeting as "demoralising".
Dr Rodd, a lecturer in Deakin's School of Education, said the cuts could result in the loss of about 125 administrative staff and about 80 academics.
"In my school there's going to be 15 academic jobs lost and a number of positions that are essentially demoted."
"Dozens" of academic and administrative staff could face pay cuts as a result of the plans, Dr Rodd said.
If approved, Deakin will have made more than 500 employees redundant since the beginning of the pandemic in March last year.
The proposed restructure is part of the university's Deakin Reimagined plan, aiming to create a "sustainable" response to COVID-19 while investing in a "vibrant future".
Deaking University has released the plan among staff for a two-week consultation period.
Corangamite MP Libby Coker took aim at federal government over the proposed cuts.
"The Prime Minister has failed the higher education sector," Ms Coker said.
"Staff at Deakin haven't been supported. There was no JobKeeper for them.
"And it has been a double whammy for the university with the government's failure to establish purpose-built quarantine facilities.
"Billions of dollars were squandered by the Morrison Government on JobKeeper going to businesses that didn't need it, yet our university sector, one of the nation's biggest export earners, was snubbed.
"I feel for the local people who may lose their jobs.
"Australia is no longer the smart or the lucky country. Investment in education is crucial to Australia's recovery from the pandemic, but the Morrison government refuses to support our university sector."
But federal Victorian senator Sarah Henderson demanded Ms Coker apologise for the "irresponsible and disrespectful" comments, which she said had "potential to cause real economic damage, particularly to our international student market".
"The Morrison Government is providing universities $20.4 billion this year alone, with Deakin receiving a very significant $700 million," Ms Henderson said.
"The university has just posted a $30 million surplus so it is doing a lot better than many businesses about which Ms Coker has shown no care or interest.
"JobKeeper has been an incredible economic lifesaver for our country and yet all that Ms Coker can do is denigrate this program.
"At the beginning of the pandemic, the university sector was guaranteed more than $18 billion which Ms Coker has conveniently omitted to mention."