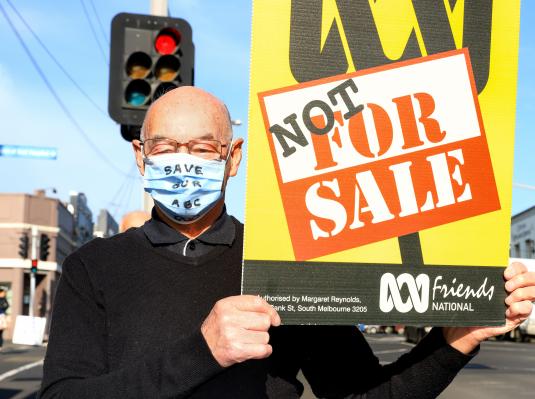 By Luke Voogt
Two dozen Geelong ABC Friends held a 'silent vigil' outside federal senator Sarah Henderson's office on Tuesday morning protesting $84 million in funding cuts.
Group chairperson Michael Kinnane described the ABC as "one of the most important institutions in Australia".
"When there's a crisis like the coronavirus, the bushfires or drought, the ABC has come to the fore and done a fantastic job," the 74-year-old from Stonehaven said.
"They need funding to continue that."
With false information spreading rapidly through social media, the ABC's ability to fact-check and hold those in power accountable was more important than ever, Mr Kinnane said.
Federal Corangamite MP Libby Coker agreed, describing the Morrison Government's cuts in "a time of fake news and a shrinking media market" as "unfathomable".
The ABC is currently subject to an indexation freeze expected to cost $84 million in projected funding over three years.
"The claim peddled by Scott Morrison and Communications Minister Paul Fletcher that there have been no cuts to the ABC is an absolute furphy," Ms Coker said.
"Tell that to the 250 staff who are set to lose their job in the middle of a recession."
Ms Coker also took aim at Ms Henderson, a former ABC journalist, for her "appalling silence" over the cuts.
But her political rival hit back saying the ABC's $1 billion-plus budget continued to rise annually despite indexation pausing for three years.
"In 2018/19, the Morrison Government provided $1,045,911,000 increasing to $1,070,649,000 in 2021/22," Ms Henderson said.
She accused ABC Friends and local Labor MPs of showing no interest in a "better deal for Geelong" with ABC's major studios receiving "too much" of its "funding pie".
"Geelong has, in my view, the worst regional ABC office in the country, located in a tiny room in the studios of Pulse FM community radio," she said.
"It is an absolute embarrassment and Geelong deserves better."