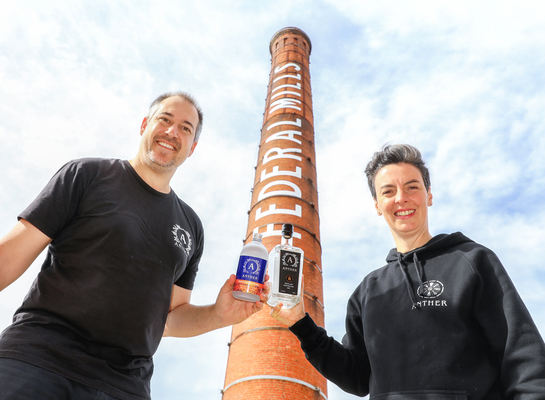 By Luke Voogt
When Dervilla McGowan discovered her local post office had no hand sanitiser to protect "older residents" paying bills, she felt compelled to help.
"We just can't have our vulnerable groups out in society with no protection, it's not right," the Highton distiller said.
She and husband Sebastian Reaburn had recently postponed plans to build a new North Geelong gin distillery until after the coronavirus pandemic subsided.
But they decided to fast-track the project to produce hand sanitiser instead after hearing the post office had not secured a regular supply.
"I really thought we had a moral obligation to do something, with the skills we have, to help fight the coronavirus," she said.
"For us it's relieving some of the feeling of powerlessness, which I think everyone's feeling a bit."
Dervilla will keep the product affordable amid "outrageous" price-gouging as the pandemic causes shortages worldwide, she said.
She and Sebastian will sell their hand sanitiser at $7 for 100ml and $20 for 500ml, she said.
"The only reason we're putting any margin on it is we need it to do the next batch. If we end up doing 4000 litres, we might break even.
"If you can afford to buy it, buy it, and then we can afford to give some to people who can't or are vulnerable."
The couple "fell in love" with the Federal Mills site last year after producing their Anther Gin at boutique distilleries across Melbourne since 2016, Dervilla said.
Site owner The Hamilton Group had backed the couple's new plans to have their distillery producing hand sanitiser by mid-May, she said.
"They're bringing a bit of life back into the area and we're really excited to be part of that."
Dervilla and Sebastian themselves fell in love while bartending as they studied at Deakin University.
"I think we had our first kiss in the mosh pit of a Powderfinger concert," she said.
Dervilla was a microbiologist and Sebastian a sales manager for a liquor company when they decided to make their own gin.
"The best thing we did for our marriage was to begin distilling gin," she said.
"It's so much fun – you just get to sit around all day tasting gin off the still – that's my favourite thing."
But oddly, Dervilla describes herself as "almost a non-drinker".
"After I had [my daughter] Ariella, I just lost the ability to stomach alcohol. I love the flavours and nuance of gin but I just can't have too much of it."
Details: anther.com.au.