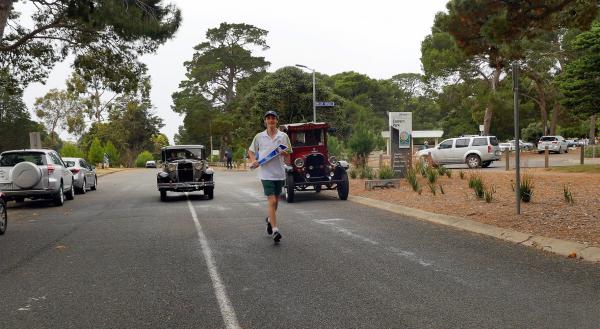 By Luke Voogt
Conor Brown escaped bushfires at Mallacoota just weeks before boarding a flight to Germany on January 18, 2020.
The 17-year-old from East Geelong remembers orange skies, distant flames, thick smoke and "sirens all through the night" during his family's camping trip, before boarding a navy ship for Melbourne on January 3.
He "hadn't heard too much about COVID-19" when he left for a Rotary-sponsored exchange trip to Germany.
When the pandemic hit worldwide, Conor and his parents were "on the fence" about him returning immediately, but had confidence in Rotary and Germany's health system, he said.
Conor endured Germany's first lockdown in April, and lived in three towns between Dortmund and Cologne.
He even travelled to France, Belgium, Luxembourg and Austria as the pandemic abated during the European summer.
But "things really started getting bad" mid-October with 10,000 to 15,000 cases daily and strict lockdowns.
The exchange program's insurance enabled him to fly home on November 2 and he had a row to himself with about 30 people on the plane.
His sister picked him up from Sydney airport and, as an unaccompanied minor, he was permitted to quarantine with her in Wagga.
With the NSW-Victoria border closed, he had to walk across a bridge at Albury-Wodonga to reunite with his parents.
"I felt overwhelmed and happy to see them," he said.
Recently, Conor joined the Geelong leg – featuring 13 vintage cars – of a nationwide relay celebrating 100 years of Rotary in Australia.
"I had a pretty bloody good year compared to some people," he said.
"[Bayside Geelong Rotary Club] sponsored me and I will be forever grateful to them."