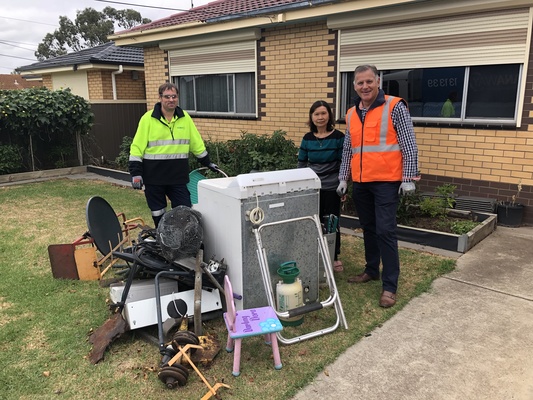 Council's hard waste collection began in Geelong's northern suburbs on Monday after more than 4400 households signed up to the service in a month.
Deputy mayor Peter Murrihy joined workers at Norlane as they collected items at one of the first properties to benefit from the service.
"We are pleased to see hard waste collections begin and will closely monitor the trial over the next 15 months," he said.
"Residents can help us run the service by following the guidelines and placing their unwanted items in the approved area of their property."
Highton, Ocean Grove, Grovedale, Belmont, Corio and Leopold had the highest demand for the service, with council recording interest across greater Geelong.
Ratepayers filled all places for the first four weeks of April, with book-in collections now available from 29 April onwards.
The service requires residents to place allowable hard waste items inside their property line, unless council has approved an alternate collection point.
A City Hall spokesperson said residents keeping the pile on their property would deter others from adding to it.
This would help prevent a breach in size limit or prohibited items, they said.
"It will also discourage scavenging and help maintain a tidy street."
The amount of material put out for collection must be less than three cubic metres in volume – equal to a pile 3m long, 1m high and 1m wide.
Council contracted waste management company Cleanaway to collect and sort the rubbish.
All recyclable material collected from the service would be diverted from landfill and sent to various businesses in the Geelong area, council's spokesperson said.
Residential properties have access to one book-in collection each financial year throughout the service trial, which runs until June 2020.
Bookings are compulsory and can be made online at www.geelongaustralia.com.au/hardwaste or by phoning  5272 5444 from Monday to Friday, 8.30am to 5pm.
Council is funding the hard waste collection through its residential waste collection charge.
The service complemented a range of existing waste programs, which provide free or low-cost ways to conveniently dispose of a wide range of items, Mr Murrihy said
"While there has been strong interest in the hard waste collection, residents should not overlook the many options available through our existing recovery and reuse programs."
He urged residents to visit www.geelongaustralia.com.au/recycling.