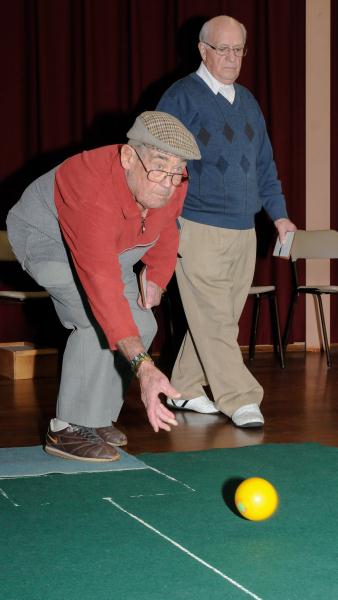 By JOHN VAN KLAVEREN
JOURNALISTS are often accused of bias but the good members of Indented Head Carpet Bowling Club openly admit theirs.
Secretary Marie Bedford said the carpet version of bowls was played on a shorter, narrower surface but retained the same level of bias as the lawn version.
"We use smaller bowls and a smaller kitty but you have to be a good judge of the weight and the state of the mat," Marie explained.
"If the mat is worn a little more it's faster than a newer mat with more pile. It has a significant effect.
"It's the same effect as longer grass in outdoor bowls or putting a golf ball on a green that's not as smooth – you have to make greater allowance."
The carpet bowlers take their sport seriously despite gathering mainly for a laugh, a cuppa and to get out of the house.
"Years ago when I started if you knocked the kitty off you'd just about be hung," laughed Marie, "it's like potting the black in snooker.
"These days, if anyone knocks the kitty off we clap and shout and carry on, but it's all in good fun.
"You always like to win but we don't have to win. We're not playing for sheep stations."
Carpet bowls is played on a 2×9 metre mat indoors, with the club holding weekly games almost all year round, with breaks for major and minor holidays.
The main attraction of the club was the cost, Marie emphasised.
"It's fun and sociable and so, so cheap – it's only $2 to play.
"What does $2 get you these days? We offer three hours of fun in a comfortable hall complete with afternoon tea."
Despite its name, the group plays at Parks Hall in Portarlington.
"We had to move from the Indented Head Boatshed hall because part of it was condemned. We thought eventually we'd go back but we've ended up in a much nicer place, so we decided to stay," Marie said.
"We get up to 20 members come and play of a Monday afternoon, with teams picked out of a box depending on who turns up on the day.
"We choose a skipper, someone who hasn't done it for a few weeks, and play eight ends. We usually have three games."
Marie said anyone could pick up the game reasonably quickly.
"We had two recent new members, including a lady who had not bowled before and had a bit of a practice before the games.
"We showed her how to hold the bowl and where to bowl it, and even in her first game she was quite good."
Marie said the group was seeking an injection of new blood.
"We have been in existence for around 30 years and had some ups and down in numbers. This is one of the down times, so we're letting people know.
"Did I mention how cheap it is?"
Marie said prospective players could phone her on 5251 1444 or visit Parks Hall about 1pm on a Monday afternoon.