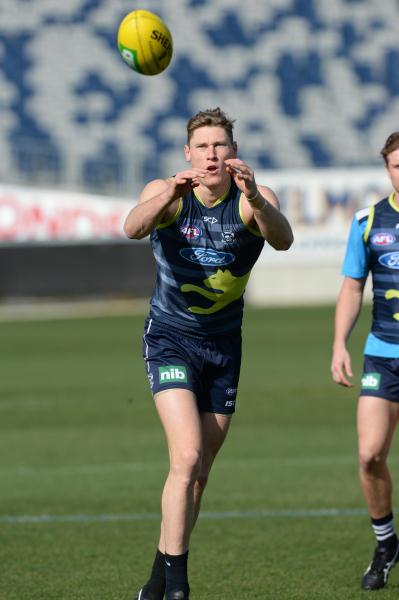 By Paul Millar
PLENTY has changed in footy since the blood sweat and beer days of the 1970s but some things remain the same.
In the 1975 grand final, between Hawthorn and North Melbourne, legendary Hawks coach John Kennedy, the man with the Columbo raincoat, urged his charges to lift with a stirring speech at the long break.
"At least do something! Do something," Kennedy roared.
"Don't think, don't hope, do."
But North overwhelmed the Hawks despite Kennedy's rousing oration.
Wind the clock forward almost 40 years and the message from Geelong coach Chris Scott this week ahead of Saturday night's game against the Brisbane Lions could have come from the same handbook.
"I reckon what you do is more important than what you think," he told this week's media conference.
Scott will be hoping his charges have enough in the tank and the mental toughness to overcome second-half fade-outs.
The latest, when the Hawks came back from 31 points behind at half-time to win by 23 points at the MCG last weekend, was a major concern.
Scott, however, preferred to concentrate on the positives from the first-half effort when the Cats were full of running and had 100 more possessions than the Hawks.
"We did not put the cue in the rack at half-time," Scott said
"It was not devastating to our season."
However, heading into the finals he also knows that Geelong will be punished for any lapses, especially a failure to push home early dominance.
The players had taken the message on board, he suggested.
"We're confident for our own reasons. We do not need to spell them out publicly," Scott said.
He will be cautious about deciding who takes the field on Saturday, with a wary eye on injuries and the finals.
But Scott was also concerned about making wholesale changes.
"One of the risks you take is if you go in with a completely different team you lose momentum with the things you're trying to work on.
"We don't see any need to flirt with our structure too much…but we'd be crazy to risk any players. That's the bottom line.
"On balance, I'd say we'll be slightly more conservative this week than we were last."
The last time the Lions defeated Geelong at Simonds Stadium was round six, 2003 – Brisbane's last premiership year.
When the two sides met at the same time and same venue last year the Cats doused the Lions' finals hopes and claimed second spot on the ladder with a one-point win.