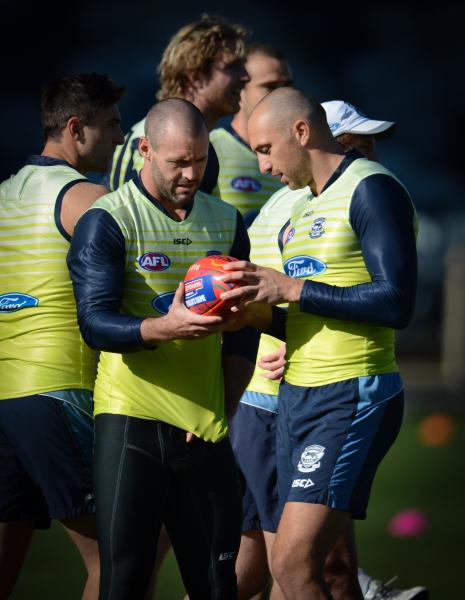 By NOEL MURPHY
GEELONG and Port Adelaide are poised for a double defensive-offensive in their clash at Adelaide's AAMI Stadium on Saturday.
Cats coach Chris Scott's so-called strangle turnover strategy , which has pushed his charges to a 7:1 second-slot standing, will come up against a desperate Port effort to toughen its defensive workload in a bid to fend off a fourth consecutive loss.
Scott's focus on capitalising on turnovers rather than clearances, subject of widespread comment this week, appears a work in progress.
But it's one Port can be expected to try to exploit as it seeks redemption after its 5:0 stellar but ultimately short-lived start to the season.
Scott this week acknowledged the challenge of the away clash.
"They were five to zero at the start to the year and we're going to treat them as such … they've played some really high quality attacking football," he said.
But Scott also acknowledged the Cats' shortcomings that saw Collingwood bump them from pole position last Saturday.
However, he was coy about just what he considered those shortcomings actually were.
"It's not something we're going to talk about publically," he said.
"We're pretty clear and the players are pretty clear on what needs to improve."
Scott did, however, state the obvious about the Cats' effectiveness under Collingwood's overwhelming defence
"Some things we're talking about (achieving while) under pressure are not being instituted in the heat of the game … we'll continue to work on that this game."
Port coach Ken Hinkley has admitted the clash with Geelong, for which he played 121 games and served as assistant coach in two flags, will be a test for his charges.
His imperative of defending first and the expectation Port will remain a ferocious competitor, as evidenced even in last week's 18-point loss to Carlton, augurs for a solid challenge to Geelong.
Scott certainly won't be taking Port lightly.
"It's going to be more than tricky, it's going to be very difficult," he said.