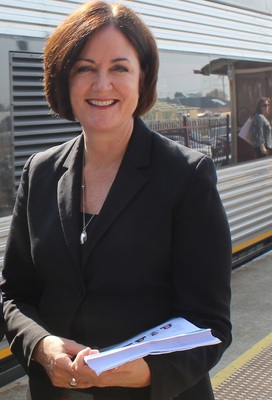 Corangamite MP Sarah Henderson was standing by embattled Prime Minister Malcolm Turnbull today despite claiming she was offered a ministry to change sides.
Ms Henderson told ABC Radio this morning that supporters of leadership challenger Peter Dutton asked her to switch allegiances.
Ms Henderson confirmed the ministry offer during the interview.
"That's certainly been floated about," she said.
"That position has been put to me.
"Just imagine if that was accepted and there was a change of leadership. To be rewarded for an act of treachery, I think, is a terrible thing."
Ms Henderson beat Labor's Libby Coker in the 2016 election for the seat of Corangamite with a margin of 3 per cent.
In a statement on Tuesday Ms Henderson declared her support for Mr Turnbull, who survived a leadership spill 48 to 35 the same day.
"I have made clear my strong support for the Prime Minister," she said.
When the Indy went to press today the Prime Minister remained locked in a stalemate with Mr Dutton.
Mr Turnbull refused to call another spill and step aside unless the majority of the party room signed a letter stating he no longer had their support.
Treasurer Scott Morrison and Foreign Affairs Minister Julie Bishop had also reportedly challenged for the leadership.
In today's radio interview Ms Henderson said her constituents were fed up with uncertainty in Canberra.
"They hate this because, frankly, they elected a Prime Minister, they expect the Prime Minister to serve his full term, they expect to make the decision at the next election."
Corio MP Richard Marles slammed the Federal Government and Ms Henderson.
"Today we've seen a majority government cease to govern and it's done that by its own hand," he said.
"The coalition has let the entire nation down. The people of Geelong deserve an explanation from Sarah Henderson."
Mr Marles was part of the Labor Federal Government which deposed prime ministers Kevin Rudd and Julia Gillard in four-year period.
The Indy sought comment from Ms Henderson but she failed to respond before deadline.