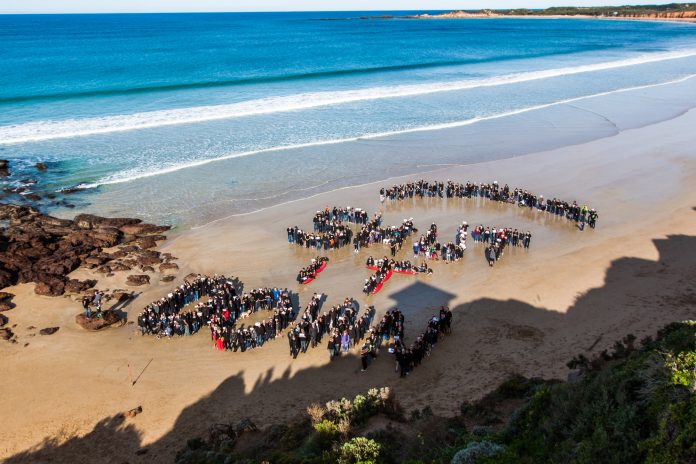 THREE hundred protesters took to Anglesea Beach at the weekend demanding the town's Alcoa coal-fired power station be shut down.
A human sign spelling out "Shut it Down" highlighted the Surf Coast Air Action group's ongoing call for the mine and power plant be shut down and rehabilitated.
"The huge turnout today on a cold mid-winter morning reinforces just how concerned the Surf Coast community is about Alcoa's toxic emissions," SCAA's Dr Jacinta Morahan said in statement on the group's website.
"This issue is not going to go away and the campaign will continue for as long as it takes to finally free the Surf Coast from coal mining and combustion".
Fellow SCAA spokesperson Mark Smith, a 30-year Anglesea resident, said that since the closure of Alcoa's Point Henry smelter at Geelong was announced, an overwhelming community view had developed that "that there's no social licence for this polluting coal pit and power plant to continue producing dirty power for an already over-supplied electricity market".
"People come to Anglesea and the Great Ocean Road for their natural beauty and recreational opportunities; not to see a coal mine and power station," said SCAA's Regina Gleeson.
"The damage that Alcoa's redundant facility does to the Surf Coast's brand is incalculable."
Contrary to the SCAA claim of more than 500 people at the event, however, a head count revealed barely 300 in its photograph.
The fudged figures follow recent criticism by Alcoa and AGL Energy that Surf Coast Air Action misrepresented them in a media release about the power station.
The two hit out at a release headlined 'AGL rules out buying Anglesea power station', claiming the AGL blamed "negative effects" on residents' health and wellbeing for its lack of interest in the facility. They said the release was misleading and wrong.
The SCAA has collected petition signatures numbering more than 1500 protesting the power plant.
The Surf Coast Shire recently voted to call on the Federal Government to clean up or decommission the power plant.
Alcoa has operated the power station since 1961. More than 80 workers face the employment scrapheap if it cannot sell the plant and the SCAA has come under attack from the Australian Workers Union for undermining   the livelihood of the workers at the power station.
SCAA cited figures recently released by the National Pollutant Inventory claiming the Alcoa-owned Anglesea coal plant:
• Emits particulates (a recognized carcinogen), sulphur dioxide (a serious respiratory irritant) as well as arsenic, lead and mercury; and
• Is the equal third highest emitter of Sulphur dioxide in Australia (39,000,000kg per annum).
It said the only power plants in Australia emitting more sulphur dioxide than Alcoa Anglesea — Bayswater in the Hunter Valley (63,000,000 kg) and Loy Yang in the Latrobe Valley (49,000,000 kg) — produced 17.6 and 14.7 times more electricity than Anglesea respectively.