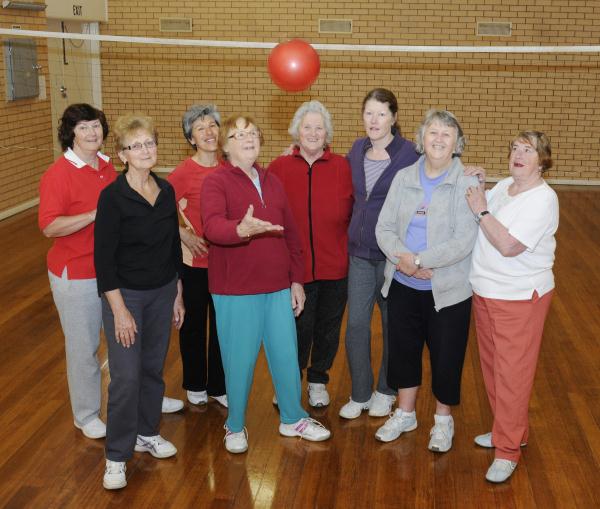 By John Van Klaveren
THEY don't care who wins or loses – in fact, they don't even keep score.
It's all part of a group of Bellarine ladies growing old disgracefully but doing it within the confines of Portarlington Uniting Church's hall.
It's nominally a game of volleyball and the group does go by the name Portarlington Volleyball Group, concedes long-time player Marie Bedford.
But that's about where the similarity ends, with the volleyball replaced by an inflatable beach-ball, a la the once-infamous Bay 13 at the MGC.
"Yes, we've made up one or two rules that aren't in the volleyball rulebook. We don't blink if someone hits the ball twice instead of once or if they miss it altogether," Marie laughed.
"We shout, we scream, we laugh, it's total fun, so we don't let things like the score or who served last get in the way.
"We're a lot of mad ones but it's fun being mad on a Monday morning and it sets the tone for the week.
"Last week was the first time for ages I remembered the score. It's meant to be whoever gets to 21 wins but we've had games where one side hasn't won a single point but had just as much fun."
The ladies gather at 8.45am Mondays for a 15-minute chat – "We used to start at 9am but by the time we finished chatting there wasn't enough time left for a game", Marie admitted – then play for about an hour.
No one really runs the group, Marie said.
Someone always volunteered to collect the 50-cent fee and organise the ball and net.
"Sometimes we have uneven teams because people can please themselves as to which team they go on," Marie explained.
"It's a great way to start a week. Every time we leave we all feel on top of the world.
"One lady has bad arthritis and she still manages to come along and join in.
"I'm 80 and I think I should give it away but then I realise I can't because it's so much fun. I can't jump anymore but age doesn't matter.
"No one says 'Why didn't you get that one'. We have one younger lady – she's only 65 – she's like a flea in a bottle, here there and everywhere – she always gets the balls.
"We might get the odd ache and pain but what's the good of sitting in a chair? We need to be active."
The group takes a break for the Christmas period, marked by a break-up lunch, with each bringing a plate and their sense of humour.
"If we went to a venue we'd be thrown out because of the way we laugh and carry on," Marie said.
Anyone interested in joining the antics is welcome to head to the corner of Fisher and Newcombe Sts, Portarlington, on a Monday morning and simply follow the sounds of the screams.