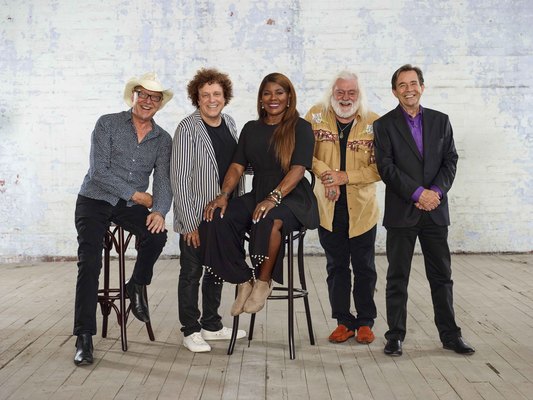 Five icons of Australian music will bring their classic hits back to Geelong as the Good Times Tour hits the city next Sunday.
The yearly tour returns for a sixth time featuring Brian Cadd, Marcia Hines, Russell Morris, Leo Sayer and John Paul Young.
Singer-songwriter Brian Cadd returns with hits like A Little Ray of Sunshine, which saw him rise to fame in the late-1960s with bands The Groop and Axiom.
Cadd went on to write songs for superstars including Ringo Starr, John Farnham and Bonnie Tyler before making the ARIA Hall of Fame in 2017.
Joining Cadd onstage is Marcia Hines, who has sold 2.6 million albums since moving from Boston to Australia at age 16 in 1970 to star onstage in Hair.
Hines featured in the Australian charts for decades before becoming a judge on Australian Idol and an advocate for diabetes research.
Fellow expat Leo Sayer tours alongside Marcia, after a prolific career which saw him sell 18 million albums and win a Grammy.
Since his debut smash hit The Show Must Go On in 1973, Sayer has recorded more than 20 top 10 singles and written for the likes of Tina Turner and Dolly Parton.
The UK singer songwriter moved to Australia in 2005 and later became an Australian citizen.
With Sayer is 'The Real Thing', Russell Morris, who won his way to fame with the aforementioned Aussie anthem.
Audiences will journey back in time with the ARIA Hall-of-Famer as he plays hits like Hush and Wings of an Eagle.
Morris' more recent blues and roots releases Sharkmouth, Van Diemen's Land and Red Dirt Red Heart have all also reached the top 10 on the ARIA charts.
And love is in the air with the show's final performer, Australian pop icon John Paul Young.
Young sold millions of albums with hits like Yesterday's Hero, Standing In The Rain and, of course, the timeless Love Is In The Air.
He later became a guest presenter and co-host on Molly Meldrum's Countdown and entered the ARIA Hall of Fame in 2012.
The five performers will join forces and voices on stage to sing together in the show's finale.
The Good Times Tour comes to Costa Hall at Geelong Performing Arts Centre for one performance at 7.30pm on 27 May.