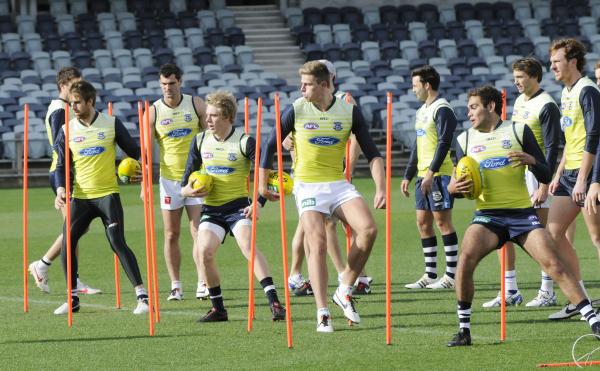 By JOHN VAN KLAVEREN
THIS could be the danger game.
Whenever a team has a strong winning streak, there's always a danger game that pops up – and it's often a team considered in poorer form that finds an extra few per cent while the streak side drops off slightly.
That's enough in AFL to cause an upset, exactly the scenario Geelong faces in its game against Collingwood on Saturday.
The Magpies are wounded, pride is severely dented and coach Nathan Buckley promised his players a week of soul searching.
That used to mean getting flogged on the training track but these days it's more likely to involve meetings.
Chris Scott, as coaches must, described Collingwood as "daunting opposition".
"Their form against Fremantle was very good at times," he said at Simonds Stadium this week.
"To be that far down against Fremantle and to come back is exceptional form.
"They were very, very good against Essendon at times. We make our assumptions on the opposition given their best football.
"We'd assume they're going to play like they did in patches against Essendon and Fremantle when they were playing well."
The main antidote to this infection is the well-established Geelong hunger for big games and Collingwood still fits that category.
Memories of recent blockbusters against the Magpies will live in the minds of the older players and Geelong has shown its education of the younger brigade in these matters is top notch.
The newbies will have to carry the can for a while longer, with continued doubt over veteran Paul Chapman, a handy man to have around in games against Collingwood.
Chapman was running laps at training on Tuesday and did not join in main group activities.
Scott has expressed his confidence for the last two weeks that Chapman would take his place in the side but each time he has been a late withdrawal.
"I'm not going to say I'm confident," Scott admitted.
"I can't shed any light, it's more complicated than we first thought.
"It's been grumbling along, he's been 95 per cent for three weeks. It's not a hamstring strain, it's more related to the tendon."
Scott said Chapman would be taken through a "traditional" rehabilitation involving greater strengthening focus if his hamstring failed to improve.
"It's most important to get him completely right so he can play a long stretch of footy when he does come back."
Scott said he was "confident" Joel Corey would return.
The coach also lauded the performances of Matthew Stokes this season, admitting he was "mildly surprised" at his surge in form.
"He adds a different look to the midfield," Scott observed.
"He finds the footy and uses it really well; a smart, natural footballer."
Scott said tagger Taylor Hunt faced a six week recovery after surgery for a broken collarbone on Mother's Day.
He said the quality of Jackson Thurlow's debut and the availability of Cameron Guthrie meant much of the role would be covered.