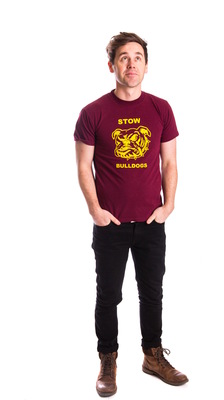 By Luke Voogt
Josh Earl is no stranger to side-splitting line-ups, having shared stage and screen with stand-up legends.
The Tasmanian-born comedian hits Geelong Performing Arts Centre on 30 June with Dave Callan, Demi Lardner, Bev Killick and Mel Buttle for the Melbourne Comedy Festival roadshow.
"It's a great line-up," he said.
With each comedian doing a 20-minute set Geelong audiences were bound to find one that tickled their funny bone, Earl said.
"Not everyone is going to be your cup of tea but the next one might become your favourite comedian ever."
Earl made his stand-up debut in 1999 but not by choice, he told the Indy.
His university forced him to get behind the mike as part of his theatre degree, he explained.
"I think they were just making sure you could get up on stage and be yourself."
The same year he scored cheap tickets to local stand-up night, where he decided comedy was what he "wanted to do".
But it took him another four years to muster the courage to perform at a popular uni haunt in Launceston.
"Getting up and trying to be funny is really hard when you're first starting out," he said.
"But it wasn't some comedy club where people were yelling at you and heckling you.
"Launceston's a small town. You pretty much know everyone. If you don't know them you know of them."
The weekly show was a far cry from a "shocking gig" at a local football club, where staff taped a microphone to a mop and bucket for his guitar.
A few wives and girlfriends watched but the players ignored him and drank beer by the fireplace, he said.
"I think they just lost the day before. Not even the best comic in the world was going to win that room over.
"Failing is a big part of comedy – you don't know if your jokes are good until you hear the audience response."
But in a silver lining the gig's $1000 fee paid for a new guitar, he added.
Eventually Earl scored a gig as MC for comedy icon Rob Quantock and he moved to Melbourne where he hosted a community radio comedy show for four years.
He has shared the stage with Arj Barker and in his early years performed in a massive gig with popular Australian comedians including Tim Minchin.
"Everyone on that cast just took off apart from me," he joked.
Earl toured the country with his comedy shows before hosting a reboot of popular ABC music quiz Spicks and Specks in 2015.
ABC later cancelled the show prompting him to joke on Twitter, "So guys, what's happening? Anything I should know about?"
But "paradoxically" the birth of his second son made the cancellation one of the happiest times of his life, he said.
Australians relied on humour to get them through the day, especially those living in small towns where people were always leaving, Earl said.
In his day that humour was self-depreciating, whereas kids nowadays annoyed him with their confidence, he said.
"I say, 'I'll probably be s**t but I'll give it go.' When I was brought up that's how you spoke about yourself."