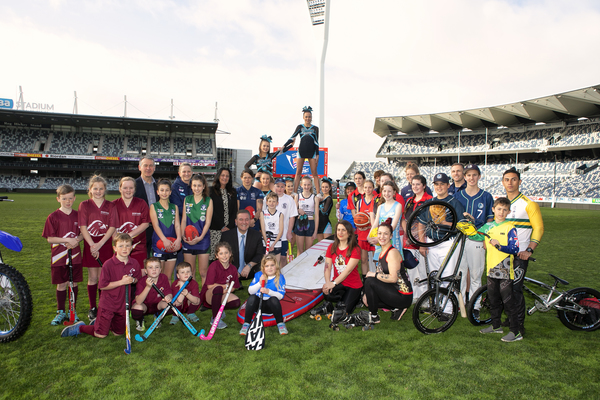 By Luke Voogt
Geelong will host an inaugural Festival of Sport this October, with more than 30 clinics, stadium tours and a National Rugby Union match at GMHBA Stadium.
Kardinia Park Stadium Trust chief executive officer Michael Brown announced the event on Monday, following criticism the ground was underused in the off season.
"The trust's key objective is to open up Australia's best regional stadium to the community," he said.
"Kardinia Park is their precinct and we could not think of a better way to kick off an exciting summer of events than Geelong's inaugural Festival of Sport."
The free festival, from 6 to 7 October, would give Geelong kids a taste of the bigtime, Mr Brown said.
Geelong sports fans can hone their skills in clinics featuring Australian sporting stars and take photos with some of the nation's biggest trophies.
The weekend will feature roller derby, tennis, virtual sailing, stand-up paddle boarding at Kardinia Pool and Charles Brownlow Stand tours for Cats fans to explore the club's inner sanctum.
The festival will conclude with a National Rugby Championship match between Melbourne Rising, affiliated with Super Rugby club Melbourne Rebels, and Western Force.
State Government and Geelong's council funded the event to promote health and showcase the diversity of local sport, Sport Minister John Eren said.
"We invested in Kardina Park so it can host the best events and bring the community together," the Lara MP said on Monday.
"This event will do both while encouraging people of all ages to get out and get active."
The festival is the third event the trust has announced for the stadium in the off season, following the announcement of an Australian Supercross Championship on 13 October.
The trust will also host a Melbourne Victory A-League game this summer as part of a two-year deal.
But a crowd of 8370 at GMHBA Stadium during scorching hot weather on 6 January was the smallest for a Melbourne Victory game in Victoria in the A-League's 13-year history.
In June Victoria's shadow sports minister Danny O'Brien and former Geelong mayor Darryn Lyons slammed the trust for failing to deliver enough events.
"Labor promised that the trust would be self-sufficient and would deliver more events but so far we're still waiting," Mr O'Brien told the Indy.
The government provided $4.4 million to the trust during 2016/2017 after establishing it in 2016 to administer the stadium.
State and Federal government and other organisations have invested $177 million in redeveloping the stadium's stands since 2003.
Estimates for the final stage of the stadium's redevelopment range from $90 million to $100 million, bringing the total investment to more than a quarter billion dollars.