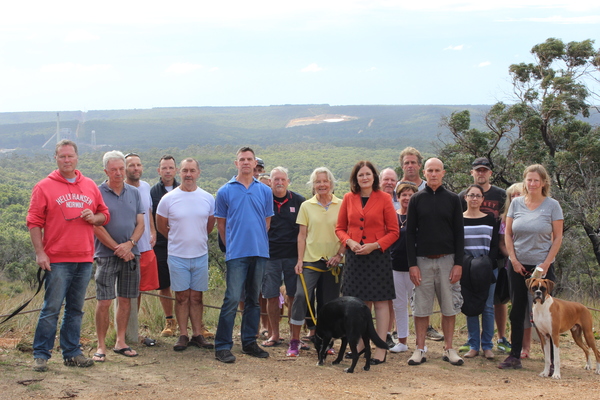 By Luke Voogt
Anglesea residents have banded together over fears the Coast Shire could build a ring road through sensitive heathland and residential streets.
Barrister Andrew Laird joined fellow residents yesterday to voice their anger at a council submission they believed hinted at development of a bypass.
"One thing that's absolutely incensed our group is that there was no consultation," he said.
"People have their lives and large amounts of money invested in their properties on these roads."
In a submission to an Anglesea Futures Land Use Plan, the shire revealed plans for a study of possible routes "to assist the movement of local traffic".
The shire would consider Coalmine Road, Messmate Track and Harvey Street as an option, the submission said.
"I read that document with interest and my eyes almost popped out of my head when I saw references to Harvey Street and Messmate Track," Mr Laird said.
The plan would "not result in an Anglesea ring-road, highway or bypass," the submission said.
"Whether it's called a ring road or not that's irrelevant," Mr Laird said.
"If it looks like a duck it probably is a duck."
Mr Laird said building "a de facto arterial road" through the roads, including two residential streets and a four-wheel-drive track, would be "outrageous".
"This link, if it was ever built, goes right through this area."
Mr Laird acknowledged the need for alternative routes given summer gridlock on the Great Ocean Road at Anglesea.
Tourists already used Camp Road as a "de facto ring road" but the shire's upgrading of other roads could cause similar traffic mayhem and damage the environment, he warned.
"If you were a resident on Campbell Road or any of the adjacent roads you would struggle to leave your house on a busy holiday."
Mr Laird argued for an alternative route for a potential bypass via Bald Hill Road north of the town's recently-closed power plant.
He planned to discuss the submission this Friday with ward councillor Libby Coker.
"We welcome the fact that the shire is now belatedly reaching out."
Corangamite MP Sarah Henderson joined the outraged residents yesterday.
"I'm very concerned about a proposal to construct a link road along messmates track and Harvey Street which would cut through highly sensitive areas including national parks."
Anglesea councillor Margot Smith said the shire only planned to conduct a study of the roads and had no plans for a bypass.
"(The sentence of the submission) has been interpreted in different ways by certain people and maybe it's a sentence that shouldn't be in there," she said.
But Cr Smith declined to rule out the possibility of a future ring road in the area.