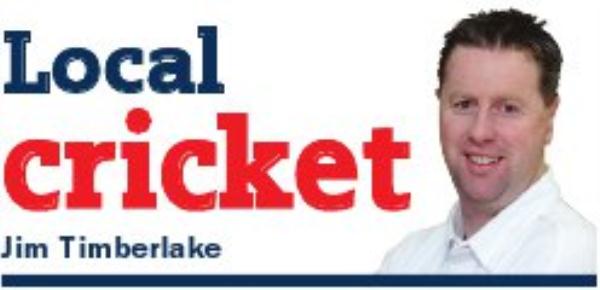 In it's penultimate game of the season, Geelong Cricket Club faces a tough ask to claim the points over Northcote on Sunday.
With tomorrow vacant for the Cricket World Cup match, the Cats will have to wait an extra day to resume their innings at 1/31 as they attempt to chase down 309 for victory.
The bowlers did a reasonable job last week, and when they reduced the visitors to 8/211 they would have had high hopes of keeping them to a realistic target.
But the Northcote tail wagged, putting on just under 100 for the final two wickets.
Eammon Vines will resume tomorrow and will look to continue his good form, while he will need Hayden Butterworth to find some for the Cats to have any chance of winning.
With two rounds remaining in Geelong Cricket Association, this season's finalists are far from decided.
Grovedale and Geelong West lurk just outside the top six and ready to pounce if any sides above slip up.
Grovedale has a slight points advantage over West but faces a tough task when it hosts ladder-leader East Belmont tomorrow.
The Tigers have had an up and down season, lacking the class to compete with the stronger sides, which showed last week when they were soundly beaten by North Geelong in an eight-wicket drubbing.
But Grovedale is a proud club and will throw everything at its local rival to keep its season alive.
Selections: ST JOSEPH'S v Lara, Leopold v GEELONG CITY, Murgheboluc v SOUTH BARWON, Grovedale v EAST BELMONT, Geelong West v NORTH GEELONG, Newtown & Chilwell v BELL POST HILL
In division two, Newcomb & District and St Peter's will play a virtual final as they fight it out for sixth spot on the ladder.
The Dinos are sixth on 34 points but the Saints sit just one position back with 33.
It's been a strange season for St Peter's, having won five of its first six games but losing every match since, falling from first to seventh in just two months.
Newcomb & District, on the other hand, has been on fire, returning to its best with two wins including an outright in recent weeks.
It's hard to see a big enough form reversal for both sides to change their fortunes in this game.
Selections: TORQUAY v Guild St Mary's, St Peter's v NEWCOMB & DISTRICT, Alexander Thomson v ST ALBAN'S BREAKWATER, Waurn Ponds v HIGHTON, MARSHALL v Modewarre, Manifold Heights v THOMSON
And in division three, Bell Park is making a huge run for finals action.
Amazingly, it had just two wins after round eight but, after an outright and another win in the past two games, finds itself just five points out of the top six.
With a tough but winnable game against Inverleigh this round, all eyes will be on the Dragons to see whether they can keep their form up and shake things up a bit.
Selections: BELL PARK v Inverleigh, MEREDITH v Lethbridge, Corio Bay v TEESDALE, BANNOCKBURN v Winchelsea, Corio v SHELFORD, Little River bye.