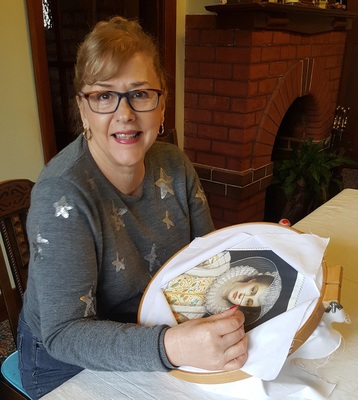 By Luke Voogt
Newtown Instagram gran Angela Dower is putting a modern twist on the ancient art of embroidery with her image-editing and research talents.
"I'm doing something completely and utterly different," the lifelong embroider said.
The self-confessed Google and Photoshop savant will display her tapestried 21st Century take on 500-year-old paintings this month to raise money for children in need.
Amongst Angela's transformations is an embroidery based on a painting of 16th Century Englishwomen Frances Bell.
"Her dress is just remarkable but the original lady is extremely ugly," she said.
"I gave her a much better face – which is better for hanging her on the wall."
Fascinated with renaissance fashion, Angela remodels queens, countesses and merchant's daughters from the era.
"I'll go through paintings and take an eye here, a nose or mouth there," she said.
Angela has painted and sewed almost her whole life, winning her first competition at age 5.
She began a class when she moved to Geelong about 20 years ago.
"I love it – you just forget your problems," she said. "Everyone in the class is just so passionate."
Angela and her students will fill Shearers Arms Gallery with portraits, blankets, cushions and more from 28 July to 5 August.
But Angela kept her embroidery secrets all sewn up when she spoke to the Indy.
"You'll have to come and look won't you," she said.
Proceeds from the $2 entry and weekend afternoon teas for the Geelong Evening VIEW Club event will go to The Smith Family to help disadvantaged children.