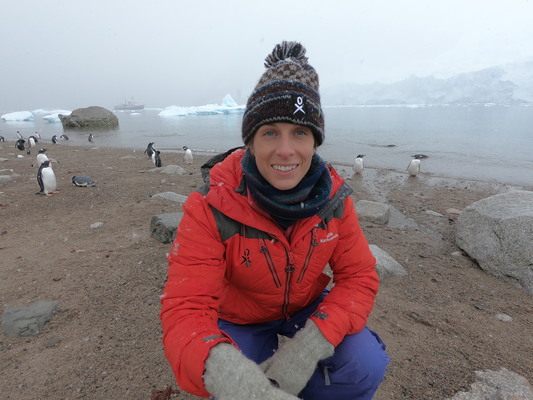 By Luke Voogt
Ellen Moon felt like she had wandered into a painting when her ship the MV Ushuaia glided into Portal Point, Antarctica.
"The scale and beauty of it almost didn't seem real," the Mount Duneed local said.
The English-born scientist stared across the bay in wonder at the stark white ice, the still blue sky and inky indigo ocean.
"There were these incredible colours," she said.
"The mountains almost looked like they were painted on."
Dr Moon was one of 80 women who travelled more than 1000km across Antarctic seas for a program promoting female leaders in science.
"Women are significantly underrepresented in the leadership positions of science," she said.
The women travelled to volcanic wastelands and abandoned whaling stations as they immersed themselves in the program, free from the distraction of phones and internet, Dr Moon said.
https://youtu.be/7phDWUNV7vU
The Deakin University lecturer remembered approaching their first Antarctic destination, Half-Moon Island, after sailing across "angry" 5m white caps in the Southern Ocean.
"It was very misty and the water was eerily calm," she said.
"You could probably see about 10m or 20m in front of the boat. Then, almost like something out of a movie, this island just appears out of the mist."
The variety landscapes amazed Dr Moon.
Whale bones and old corrugated iron littered the dark shores of Deception Island, while zebra-striped mountains loomed in the background.
"It (looked) like a post-apocalyptic wasteland," Dr Moon said.
"It's essentially a black volcanic landscape but in the higher hills you've got this light dusting of snow."
She jumped the first few times huge chunks of ice split from glaciers and plummeted into the sea, making a sound like thunder.
At first she thought the sound was lightning or a car backfiring.
"Your brain thinks, 'hang on a minute – that's not what it is!'"
https://youtu.be/M97Ay6iQaMs
Local wildlife captivated her throughout the voyage and the penguins were "particularly entertaining".
"They're just incredibly clumsy on land," she said.
"They face-plant a lot – it's brilliant! But they just shrug it off."
She was equally in awe of the birds' grace under water and their ability climb large hills by jumping up slopes.
The voyage was the finale of the Homeward Bound program, themed Mother Nature Needs Her Daughters.
The women visited Antarctica because the effects of climate change were much more visible there than in other parts of the world, Dr Moon explained.
They saw these effects visiting US research facility Palmer Station, she said.
"The glacier alongside the station has retreated 300m over the last 30 years. Every year they go down to the glacier and can't believe how much has retreated."
She met a scientist who had an island named after him.
The man described moment as bittersweet given researchers only found the island after the glacier hiding had it melted.