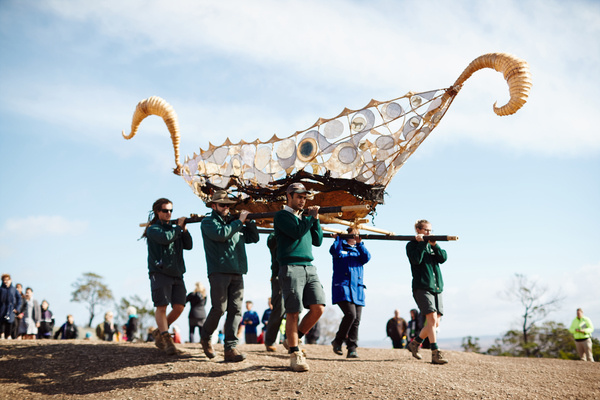 Thousands of walkers have celebrated the region's indigenous heritage before burning a sculpture on Bass Strait in a council-sponsored "unifier of local communities", according to City Hall.
The third biennial Mountain to Mouth "extreme arts walk" travelled 80km from the You Yangs to Barwon Heads via central Geelong and Queenscliff last weekend.
Three ceremonies along the way were described as "uplifting, moving and life-affirming", City Hall said.
The first ceremony was a 'Gathering of the Elders" in the You Yangs before further gatherings at Geelong After Dark and on Barwon Heads' foreshore.
Participants carried "lead ephemeral sculpture" Canoe along the route, which also hosted nine "songlines", City Hall said.
The arts walk culminated with organisers burning Canoe off Barwon Heads.
City Hall said numerous government and agencies provided "support" for the event, including "most importantly, the guidance, knowledge and wisdom of the Wadawurrung Corporation and the Wathaurong Co-Operative, specifically Uncle Bryon Powell and Corrina Eccles".
"The weather certainly didn't dampen spirits and Mountain to Mouth once again proved to be one of our most community-spirited events, showcasing a unique side of Geelong," City Hall said.
"Thank you to all of the supporters that enable this award-winning event to take place and congratulations to the hard working officers at the City whose commitment delivers an exceptional experience for the community."
"I became deeply attached to the canoe and cried when it burned in the final ceremony," wrote visiting Northcote resident Chris Sitka in a letter to the Indy.
Check out his take on the event and other letters on page 14 of this week's Geelong Indy.