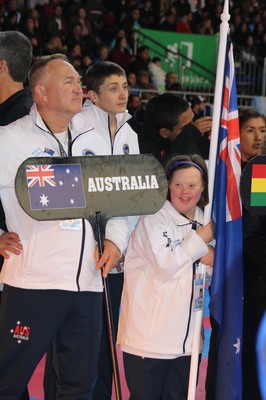 By Luke Voogt
Norlane's Lindy Joy Crouch is a world champion after winning two gold medals at an International Taekwondo Federation tournament.
"The coaches taught me well so I could earn gold," Lindy told the Indy on Tuesday.
"It felt great to stand on the stage and get given a medal – I waved to everyone."
The world championship in Argentina was the first big overseas trip for Lindy, who has Down syndrome.
"The plane trip was long but I loved the movies, the music and the games on the TV and I liked eating the food on the plane.
"I like the food in Argentina but I struggle with the Spanish."
Lindy made plenty of friends in the Australian and New Zealand teams and yelled "Aussie! Aussie! Aussie! Oi! Oi! Oi!" with the crowd when her compatriots competed.
"Everyone was very good to me and helped me," she said.
But just days after becoming the first Australian with Down syndrome to win gold at a taekwondo world tournament she was already learning her next pattern.
"I need to go straight back to training so I can earn another belt," Lindy said.
"I want to do another competition, the next world comp is in Russia in two or three years."
Proud mother Jayne described Lindy, who carried the Australian flag for her team in the opening ceremony, as "a great ambassador for Geelong".
"She took great pride in this honour," she said.