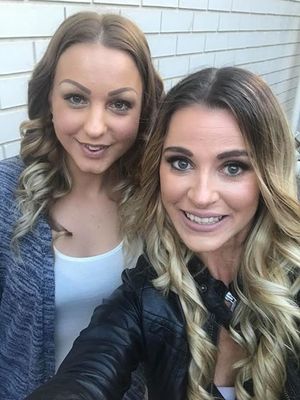 By Luke Voogt
Breakwater mother Kerry Beals is determined to "kick cancer's butt" with loved ones by her side.
Her "amazing" family and friends had showered her food, gifts and love since her breast cancer diagnosis in June, she said following a recent chemo session.
"It's overwhelming at times – you don't want to feel like a charity case but sometimes you just have to accept the help."
Kerry's road ahead includes months of chemo, radiation and a double mastectomy.
"It takes a toll because of all the chemicals they put in you," she said.
But she is facing it courageously for her husband and son.
"I feel like they're doing better because they see that I'm OK," she said.
Small things, like her friends buying the best wig they could find, made a huge difference, she said.
"I loved my long hair before it started falling out."
Grovedale's Paige Smith and other mates will hold a fundraiser for Kerry on 26 August at The 19th Tee, Highton, with raffles, food and silent actions.
"She's been the strongest person," Paige said.
"It's us all breaking down and being sad – she's the positive one."
Paige urged locals to search 'fundraiser Kerry Beals' to get involved.
"Having a mortgage and a son who's in high school … it's quite difficult for her," she said.
"We just want her to be better and get back to her happy self."