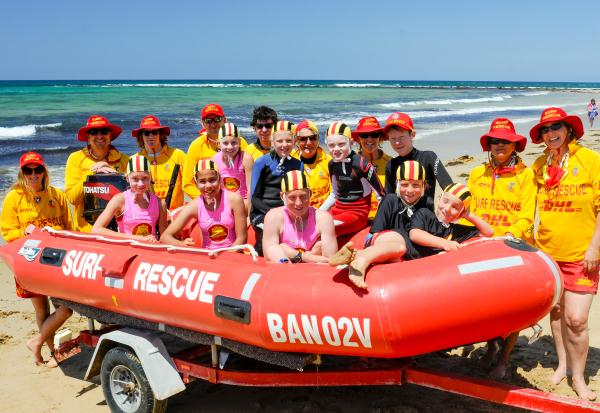 IT'S UNIQUE among the region's well-known surf life saving clubs, tucked away in apparent obscurity yet eliciting passionate dedication among members.
Bancoora Surf Life Saving Club is the only club unassociated with a major coastal town, surviving in relative isolation through a disastrous clubhouse fire in 1987 to boast more than 450 members and modern facilities.
Preparations for 50th anniversary celebrations are under way.
The last remaining club founder, Ken Galloway, admits he never thought it would eventuate.
"No one knew of us at first and it took three or four years before people came down regularly. It was only when we started to compete at surf lifesaving carnivals that we started to become known.
"We only had 30 or 40 members in the first few years, no clubhouse. We'd load up a Holden station wagon in Geelong, drive down, unload it all and carry the gear to be beach, patrol all day and then pack up, load it back into the wagon and drive back.
"Probably because of that it was a close-knit group. We had no idea it would last, didn't even think about it.
"If you'd told us then the club would one day turn 50 we would've thought 50? That's old!'."
Ken said the club had its ups and down "as all organisations do" but survived in typical laid-back Aussie style.
"The beach is a good leveller, whether you're the Prime Minister or a street sweeper. Everyone just pitches in and gets involved."
With a background in museum work and understanding the importance of the public record, Ken kept a journal and many items from the early history of the club.
That came in handy after the fire destroyed most of the clubs records, leaving many former members previously associated with the club now unknown.
President Nathan Morton said the club was keen to get in touch with them about the anniversary celebrations.
"We've had an increase in membership of around 50 per cent in each of the last three years as more people discover Bancoora," he said.
"Suburbia is getting closer and people like the club because it's less competitive, more relaxed and family-oriented."
The family friendly aspect was demonstrated when the club won a recent community award for its youth mentoring program.
"We devised a program for young members who finished the junior Nippers program but were not quite adult members," Nathan said.
"It's kept the kids as members and made a huge difference."
Nathan estimated that about 5500 members had graced the club during its 50 years.
"We're collating as much of our history as we can find and presenting it all in one night. We're inviting all members past and present to take part in the celebration."
The anniversary celebration will be in Simonds Stadium's Fred Flanagan Room on April 13.
Tickets are available from Geelong Performing Arts Centre or online at Bancoora.asn.au/50th.