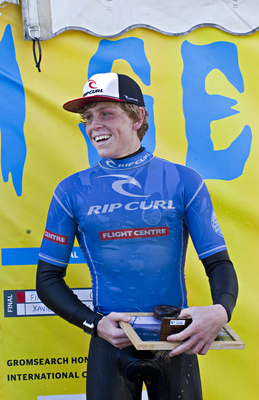 Jan Juc's Xavier Huxtable has won the 2018 GromSearch International Final in New Zealand ahead of 16 of the best young surfers in the world.
Huxtable rode solid and powerful four-to-six-foot surf in Manu Bay in the final on Tuesday, ousting fellow Aussie Finn Hill 17.8 to 15.3.
"I feel so good right now," the thrilled teen said after being carried off the beach.
Huxtable was one of the first Victorian male surfers to take out an international junior event, which made the win all the sweeter.
"It means so much to me to win this event against such talented surfers from all over the world," he said.
But it wasn't an easy road to the final.
Huxtable had to post two massive scores to beat highly-talented American Cole Houshmand by three points in the semis.
But he was up to the task, scoring his first and only 10-point ride for the competition, combined with a 9.25 for a near perfect heat score of 19.25.
And he only just snuck through to the semis with a score of 17.85 in the quarter finals, coming second behind Brazilian Lucas Vicente.
He was 1.1 ahead of Kiwi Caleb Cutmore on 15.65, which saw him through to the next round.
Finn Hill accounted for Lucas Vicente in the other semi, setting up the all-Australian final.