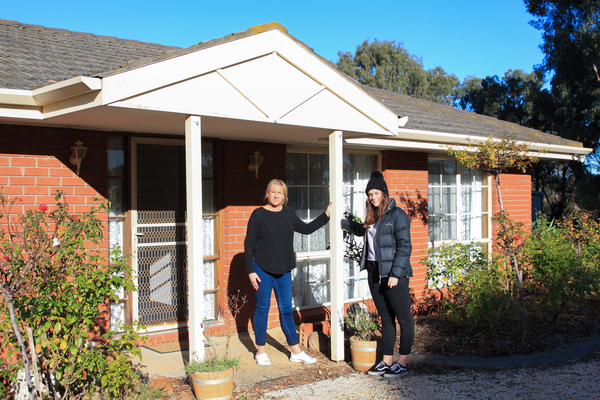 By Luke Voogt
A Charlemont family fears losing its home of more than 20 years after seeing VicRoads' plans for duplicating Barwon Heads Rd.
Mother-of-three Tracey McInnes was shocked to discover the duplication route cut through her home despite hectares of open paddocks just across the road.
"It looks like it's going through a few metres of our shed and at least a metre of our lounge," she said.
"It's frustrating because we've just spent $11,000 last year on painting and carpet."
The draft plans showed the duplication would cut into properties on the east side of the road, including Ms McInnes' neighbours.
"It basically goes to their front door but our house is set a little closer," she said.
"When we met with the lady at VicRoads she couldn't even confirm to me that it went through our house, but you can see clearly on the map they've given me it does."
The lack of certainty about the project was even worse than the thought of losing her home, she said.
"I've actually rung and been into the VicRoads office a few times and tried to contact the person I dealt with at the time – we haven't heard back from them."
Ms McInnes was unsure if VicRoads planned to purchase her whole home or a portion of the property.
"Obviously we can't live there with a road going through our lounge room – what are they going to do, pay for a new shed and house?"
Ms McInnes described VicRoads' apparent decision as "ridiculous".
"You look over the opposite side and there are just paddocks.
"Why can't they divert the road five metres instead of affecting households on this side of the road?
"But I believe developers have already purchased the land."
Ms McInnes had lived at her 2.8 hectare property with her husband and three adult children for about 25 years, she said.
"The kids have all grown up here."
Ms McInnes demanded VicRoads compensate their family for any rebuilding costs if the authority bought a portion of her land for the duplication.
She said she would consider selling for a reasonable price but that her property could increase in value by thousands due to nearby housing developments.
She worried Vicroads would not pay what the house was worth after hearing horror stories from the authority's other major developments.
"We've had family members who have been involved with it out at Moriac where they've gotten nothing compared to what that property was worth."
She vowed to fight any attempts to publicly acquire her land.
"But we don't really want to deal with a VicRoads public acquisition," she said.
The project's director Tim Price failed to answer a series from the Indy relating to Ms McInnes' concerns.
But VicRoads had met with local landowners several times throughout 2017, including one-on-one land-owner briefings, he said.
"We will continue to work with local residents as planning continues, and share an updated concept design for discussion later this year."