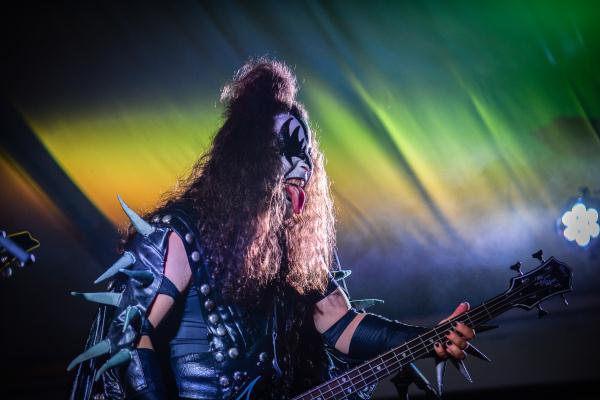 By NOEL MURPHY
GUITAR-smashing, fire-breathing, blood-spitting and some pyrotechnics – get set for a wild night out when KISSTROYER brings its glam-rock brand of anarchy to Geelong later this month.
"Geelong will get all the mayhem you would expect from a KISS show," says Ace Frehley alter-ego Andrew Kyriacou.
And, he advises, don't lock up your mums, either, make sure to take them along for the spectacle.
Ace, AKA Spaceman, told the Independent life in a KISS tribute was all about showmanship, solid-driving rock and fun.
After all, big heels, big hair, make-up, wild outfits – how much fun can one tribute band have?
"We've done this for 13 years now and the reason it continues is because it's a heck of a lot of fun," Kyriacou said.
"What's not fun about travelling around locally, interstate, overseas with your mates? Doing the hard yards getting the show up, the makeup and executing the performance as you're having a huge rock'n'roll party and kicking on afterwards if your heart desires?"
Anyone who think rock has lost its sense of fun, that in-your-face, loud-as-all-get-out entertainment factor it had in '70s and '80s, will find an ally in Kyriacou.
"When I go to shows, in this current generation of entertainment, I always think there's something missing.
"Sometimes it lacks the showmanship and entertainment but delivers on the craftsmanship and delivery of the music. Sometimes it's the other way around but rarely does it blend the two like it did in the '70s and '80s."
Not so with KISSTROYER, which delivers the goods on both fronts – as evidenced at Motor City Music Festival in Geelong earlier this year when the band blew away its audience.
"Geelong is certainly one of our favourite destinations to perform," Kyriacou said.
"It ain't called Geelong rock city for nothing. People love their rock here and we definitely love coming here because of that understanding and appreciation."
And KISS, always known more for its "look and brand and antics and big shows" than its music, delivered on the rock front in spades, he said.
"That, in the '70s, I think was pioneering and that's why they deserve to sit favourably as rock heroes – they influenced so many people and musicians."
Looks like they're still doing so, too, even a generation removed.
KISSTROYER plays North Geelong's Sphinx Hotel on 22 November.