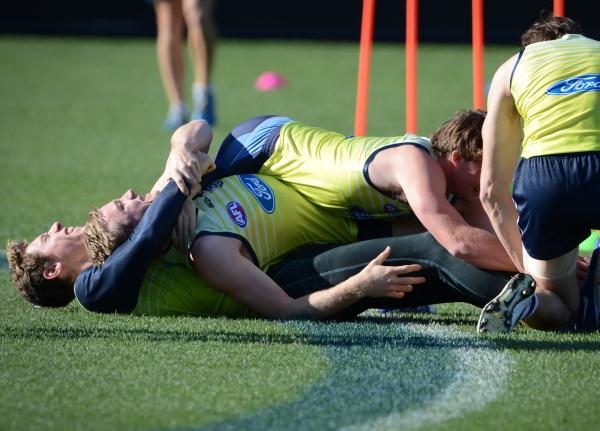 By JOHN VAN KLAVEREN
Geelong will meet a Giant challenge with lots of height in the Cats' first visit to Western Sydney's Skoda Stadium on Saturday.
The Cats are set to unveil their tallest forward line this season against the Giants, with Nathan Vardy, James Podsiadly and Tom Hawkins striding around the 50-metre arc.
Ruckmen Mark Blicavs and Trent West have shown they can drift forward and mark, with Harry Taylor and Tom Longergan also sometimes swinging upfield.
A reasonably dry day could see the talls drag down a bagful of marks or feed Geelong's fleet of speedy midfielders streaming toward goal.
Coach Chris Scott said Podsiadly was "likely to play".
"We're pleased to get him back in the 22."
Forward-ruckman Nathan Vardy was poised to become the Cat's impact player for the rest of the season after he "pulled up well at this stage" following his season seniors return against the Suns, Scott said.
"It's pretty exciting for Nathan to come back and kick four goals and he could have kicked a couple more.
"He looked really dangerous and it was exciting for all of us, especially for him
"He's looking forward to playing again this week but we're going to be really, really careful with the way we manage him.
"If he shows any signs of being a bit sore then it doesn't seem of any value to us to keep him playing.
"He's going to miss games along the way but hopefully that contributes to him having the sort of output that he had on Saturday night."
Scott again marvelled at the performance of Mark Blicavs, describing him as a "unique player on our list and across the competition".
"For a guy to be in the best five players on the ground in round 10 when the last time he played was under-14s is as remarkable a story as I can remember."
Scott flagged a minimum of changes to the side for its last hit out before the bye.
"We'll see a relatively similar 22. We had some good performances in the VFL, guys that we consider to be in and around our best.
"Billy Smedts, Jesse Stringer and Jordan Murdoch will be well and truly in the mix."
Scott was careful to avoid understating the Giants challenge.
"When the heat's on in the game they look pretty good, they're able to pressure well around the ball.
"They have pretty good contested ball players and, similar to Gold Coast, can run and attack pretty well.
"It would be foolhardy of us to expect them to bring anything less than that sort of effort on Saturday."
Midfielder Steven Motlop will miss the match with patella tendinitis.
"He'll have two weeks off and hopefully be back post bye," Scott said.
The Cats will keep utility Paul Chapman in cotton wool after another hamstring setback last week.