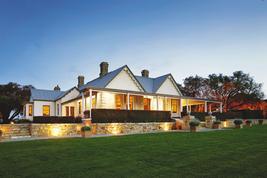 Historic Spray Farm at Bellarine has been sold, according to real estate website Property Observer.
The 60 hectare estate was listed around $12 million.
ANZ chief executive Mike Smith and his wife, Maria bought the property.
Spray Farm includes a seven bedroom, six bathroom 1850s homestead with views over Corio Bay to the You Yangs and the Melbourne skyline.
The historic estate was sold by businessman and horse breeder Rick Jamieson who bought the property in 2010 for $7.05 million.
It had previously operated as a high-end function centre by the Browne family of Scotchmans Hill winery.
The property hosted Day on the Green concerts, including shows by Lionel Ritchie and Joe Cocker.