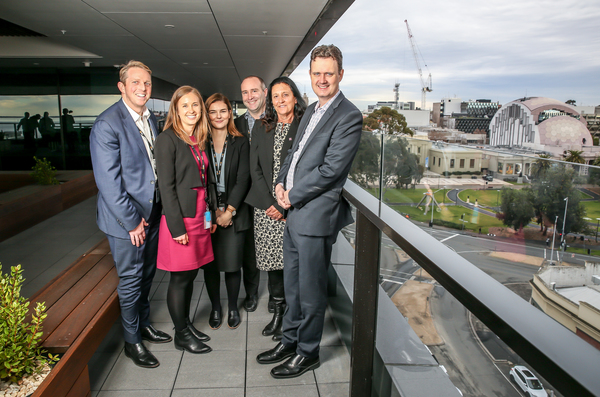 By Luke Voogt
Traders welcomed the official opening of WorkSafe's headquarters yesterday as more than 500 employees previously working in Melbourne relocated to Geelong.
The relocation could "only be a good thing for Geelong CBD", cafe owner Damian Rabbas said.
"It's a positive for traders and we certainly have had a few new faces in today."
More than 700 people now work at the headquarters, with about 200 Geelong-based employees moving there in May.
But Mr Rabbas wished State Government had begun the move "five years ago" to help revive central Geelong.
"They're behind where they should have been," he said.
Geelong barber Vince Manganelli was equally thrilled with the opening.
"I think it will be fantastic for Geelong," he said.
"We get some spinoff business and we get some more people coming to area."
WorkSafe plans to recruit more people from Geelong, like Ocean Grove resident Carly Britt, who began working for the authority in January 2018.
"WorkSafe moving to Geelong has given me a fantastic opportunity for career progression that's close to home," the 28-year-old said.
"After commuting to Melbourne for work over the past six years, I'm very thankful WorkSafe headquarters have set up in Geelong."
Almost 90 of the 500 workers who relocated had purchased homes in Geelong, while others rented locally or commuted from Melbourne, according to WorkSafe.
But some were unhappy with the move. Two Melbourne-based workers, who asked not be named, urged State Government to build a fast rail to Geelong.
"The commute is too long," one said.
State Finance Minister Robin Scott opened the 14-storey headquarters and Geelong's tallest commercial building yesterday.
"The relocation of WorkSafe is a monumental undertaking and a huge achievement for everyone involved," he said.
Property group Quintessential Equity built the $120 million headquarters, creating 250 jobs during peak construction.
"Geelong locals have been the backbone of the project, making up a majority of the workforce," Geelong MP Christine Couzens said.
"Now it's a fantastic place to work in the heart of central Geelong."
But the construction drew the attention from WorkSafe itself last year.
On 16 August 2017 strong winds blew two sheets of plasterboard from the top of the building, which plummeted 14 storeys and shattered on Corio Street.
"If it had have hit someone it would have killed them," an anonymous witness told the Indy that day.
The influx of professional workers would benefit local small to medium businesses, Geelong Chamber of Commerce president Bernadette Uzelac said.
WorkSafe employees purchasing goods and services would "have a measurable impact upon the local economy", she said.
The average wage at WorkSafe for a senior business coordinator is $123,747, while administrative officers earn $68,329 on average, according to jobs website Indeed.