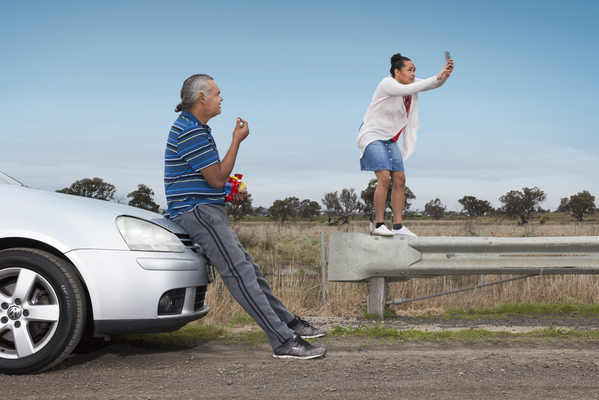 By Luke Voogt
Which Way Home's return-to-country story was familiar to director Rachael Maza before she even read the script.
"I'd already done it!" she told the Indy on Monday.
The Melbournian made her writing debut nine years ago with Sisters of Gelam, a tale of a similar journey, both physical and cultural.
She and sister Lisa travelled to Torres Strait after the death of their father.
But in Maza's latest directing challenge writer Katie Beckett's father is still alive.
"He's actually on the tour," Maza said.
"He's looking after her son while she's onstage and helping out with his online schooling."
Beckett plays herself in the two-person play about her real-life journey with her father to his childhood home of Goodooga, New South Wales.
"He has diabetes, he's had numerous heart attacks and sleep apnea – hence the urgency to do that journey," Maza said.
"But it turns out going there was actually the journey she needed to take herself."
Beckett's dad watched actor Kamahi Djordon King play him during a season in Sydney, Maza said.
"You couldn't help your eyes flicking over to where he was sitting – he was absolutely beaming."
The harmonica player and singer even got on stage after a show, Maza said.
"You couldn't get him off! He was up there singing and dancing for 20 minutes."
Directing Beckett in her own play was easier than expected, Maza said.
"She has this extraordinary ability to step back from being a writer.
"Sometimes – hilariously like an actor – she says, 'what does this line mean?'"
Beckett's relatable, simple and beautifully-told play was her "open love letter to her dad," Maza said.
Her mother died when she just five years old, leaving her dad to raise three children.
He also lost his sister, grandmother and mum within the space of a month.
"She didn't fully appreciate (what he had done) until she had a kid of her own," Maza said.
Stories like Which Way Home helped redress negative stereotypes of indigenous men in the media, Maza said.
"Aboriginal men don't get praised and celebrated."
She described aboriginal theatre companies such as her own, Ilbijerri, as "critically important" indigenous voices.
As an actress Maza continuously grew frustrated at non-indigenous companies making stereotypical and non-believable characters, she said.
She would spend hours on the script as an "unpaid consultant" helping directors get plays right, she said.
But she had helped change that at "the top of the creative food chain" as a director, she said.
"In the last decade there's been an extraordinary growth of new writers," she added.
Maza looks forward to getting to the Potato Shed for the first time when Which Way Home comes to Drysdale on 16 June.
"I love Geelong," she said. "There's a great aboriginal community down there."